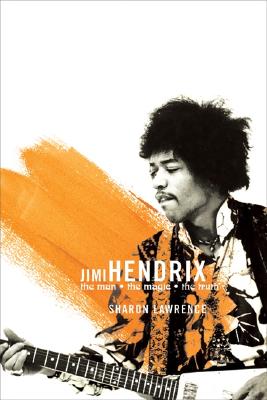 Jimi Hendrix (Hardcover)
The Man, the Magic, the Truth
It Books, 9780060562991, 368pp.
Publication Date: February 1, 2005
Other Editions of This Title:
Paperback (4/25/2006)
* Individual store prices may vary.
Description
The Jimi Hendrix legend has lived on longer than the man, who died in 1970 at the age of twenty-seven. More than thirty years later, what the world knows about him has become deeply distorted. Now Sharon Lawrence, a trusted friend of Jimi's in the final years of his astonishing life, has written a serious exploration of his life, death, and enduring legacy, based partly on the author's never-before-heard recorded interviews with the late musician.
Jimi Hendrix: The Man, The Magic, The Truth contains new and rare material about Hendrix, with major insights from sources who have previously kept their silence -- from childhood neighbors to rock stars and musicians, to music-industry insiders. This book corrects years of false information, reveals key truths, and supplies facts previously known to only a precious few. It also chronicles the years of mind-boggling legal battles over his estate and legacy.
This is the definitive account of Jimi Hendrix, the young man from a pathetic poverty-stricken childhood who invented himself into something rare and special, the man who radiated genius and a bold yet charming personality when he picked up a guitar. It revisits the glory of Hendrix's talent, giving new insight into his sensitive persona, imagination, musical standards, and far-reaching impact.
Iluminating, honest, and bracing, Jimi Hendrix will forever change how we view one of rock and roll's greatest icons.
About the Author
Sharon Lawrence started her career as a reporter for the United Press International's Los Angeles bureau. Her specialty was the entertainment beat, including film and pop music. After more than five years with UPI, she became a management, marketing, and PR consultant for such clients as MCA, Columbia, Apple, and Rocket Record Company, as well as for major movie studios. She has worked with numerous artists including Elton John, David Bowie, Andrew Lloyd Webber, Tim Rice, and Lynyrd Skynyrd. Lawrence is the author of So You Want to Be a Rock and Roll Star and Old Carmel in Rare Photographs. She lives in Los Angeles.
or
Not Currently Available for Direct Purchase