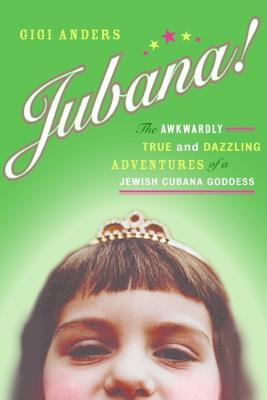 Jubana!
The Awkwardly True and Dazzling Adventures of a Jewish Cubana Goddess
Hardcover

* Individual store prices may vary.
Description
According to Gigi Anders, when you're a Jubana in America, or a Cuban Jewess in the U.S. of A.!, you have to know you're heading straight into the mondo-bizarro jaws of cross-cultural hell -- not every message you're given by your family and Juban community is synchronized or harmonious. Sometimes they switch into Cuban expectation gear, other times only the Jew 'tude will do. It's enough to make a Jubana hurl herself onto the couch of the nearest psychoanalyst.
As the granddaughter of Eastern European and Russian shtetl-reared grandparents who immigrated as teenagers in the early 1920s to the fierce tropical beauty of Cuba, Anders is heir apparent to a legacy of transatlantic alienation. With dazzling wit and hilarity mined from the depths of loss and yearning, Anders chronicles her journey from beach baby to ostracized exile to vibrant intellectual, along the way balancing her obsession with killer outfits and zaftig, orgasmic Cuban meals with the more serious pursuits of love, sanity, and lipstick in perfect siren red.
Whether dealing with her larger-than-life Mami Dearest, her youthful obsessions with Twiggy and Nancy Sinatra, the specter of Fidel Castro's role in her destiny, or her time at the exclusive and Waspy Sidwell Friends private school in Washington, D.C., Anders leads readers on a trip through what it means to be truly unique and just what lengths people will go to in order to be accepted.
Jubana! is ultimately a bittersweet, quirky, feminine story of bicultural acceptance and fusion, written with warmth, vivacity, and finally layered with the thoughtful sensitivity of a woman who has kept herself, like a great piece of jewelry, pure and brilliant -- through all that life throws at her.
Rayo, 9780060563691, 304pp.
Publication Date: May 31, 2005
About the Author
Author of the hilarious memoir Be Pretty, Get Married, and Always Drink TaB, Washington Post special correspondent Gigi Anders and her parents were born Jewish in Havana, Cuba. The trio fled Castro's regime for the United States in 1961. After six months in Miami Beach, the family moved to Washington, D.C., where Gigi came of age and eventually turned to writing. She has written for Glamour, Allure, Mirabella, American Health for Women, USA Today's USA Weekend, American Journalism Review, Hispanic, Latina, and First for Women.
or
Not Currently Available for Direct Purchase