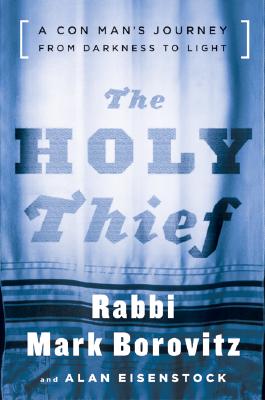 The Holy Thief (Hardcover)
A Con Man's Journey from Darkness to Light
William Morrow, 9780060563790, 240pp.
Publication Date: September 1, 2004
Other Editions of This Title:
Paperback (11/29/2005)
* Individual store prices may vary.
Description
Rabbi Mark Borovitz was a mobster, gangster, con man, gambler, thief, and drunk. He has seen it all. Now, in this inspiring memoir, he takes you on a journey from the streets to discovering his soul in a ten-by-twelve-foot prison cell.
When Mark was fourteen, his father died and his world came crashing down. Within months, he was selling stolen goods for the mob out of his high school locker, beginning a twenty-year life of crime that ran the gamut from bar hustles and con games to check-cashing scams.
Mark stole and gambled and drank, all the while trying to be the good son, the good brother, the good boy, but his life only spun more out of control until the mob put a hit out on him. From Cleveland he moved to Los Angeles, virgin territory, and amped up his hustles, schemes, and cons. Then came prison, but it only served to increase his legend, and he played every angle and then some in the prison yard.
After his release, the drinking and thieving continued unabated until, at the edge of oblivion, Mark experienced a moment of true divine intervention, a startling revelation that both saved his life and sent him back to prison, where he actually wanted to be. There he found the keys to saving his soul.
Mark Borovitz proves that you can change your life -- profoundly. He is now the rabbi at Beit T'Shuvah in Los Angeles, the House of Return, a rehabilitation facility for addicts of all kinds. Mark knows what these people feel and who they are because he was one of them. He is now, as he says, an advocate for the soul.
The Holy Thief is the remarkable memoir of an amazing man. It is a true-life gangster story, a passionate love story, and a case study in redemption. Regardless of your faith, you will find Mark's story tragic, funny, uplifting, and inspirational.
Praise For The Holy Thief: A Con Man's Journey from Darkness to Light…
"You will want to read this fascinating book by America's most extraordinary rabbi."
-Rabbi Harold Kushner
or
Not Currently Available for Direct Purchase