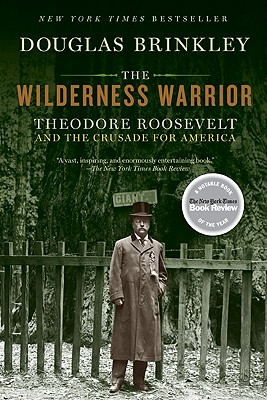 The Wilderness Warrior: Theodore Roosevelt and the Crusade for America (Paperback)
Theodore Roosevelt and the Crusade for America
Harper Perennial, 9780060565312, 960pp.
Publication Date: May 4, 2010
Description
"Douglas Brinkley brings to this magnificent story of Theodore Roosevelt's crusade on behalf of America's national parks the same qualities that made TR so fascinating a figure--an astonishing range of knowledge, a superb narrative skill, a wonderfully vivid writing style and an inexhaustible energy."
--Doris Kearns Goodwin, author of Team of Rivals
A vast, inspiring, and enormously entertaining book."
-- New York Times Book Review
From New York Times bestselling historian Douglas Brinkley comes a sweeping historical narrative and eye-opening look at the pioneering environmental policies of President Theodore Roosevelt, avid bird-watcher, naturalist, and the founding father of America's conservation movement--now approaching its 100th anniversary.
Praise For The Wilderness Warrior: Theodore Roosevelt and the Crusade for America…
"To understand America, you need to appreciate Teddy Roosevelt. Doug Brinkley brilliantly uses the lens of Roosevelt's love of nature to show why he is so influential, fascinating, and relevant to our own times. This wonderful book is as vibrant as he was."
-Walter Isaacson, author of Einstein

"No president has been a greater champion of our natural world—especially its wildlife—than Theodore Roosevelt. Now that extraordinary force of nature has his own champion in Douglas Brinkley's stirring account of the man who turned our attention to conservation and the many glories of our American landscape."
-Ken Burns, co-author of The War

"What an absolutely perfect match between subject and writer. This is a major contribution to our understanding not only of Roosevelt but of the historic movement to save our wilderness."
-Doris Kearns Goodwin, author of Team of Rivals

"Douglas Brinkley has brought us an important, deeply researched, compellingly readable and inspiring story. Exactly a century after his Presidency, there could not be a better time to revisit and celebrate T.R.'s unfinished environmental legacy."
-Michael Beschloss, author of Presidential Courage
Advertisement