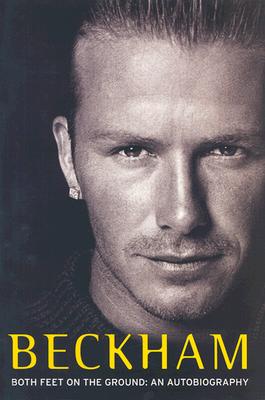 Beckham (Hardcover)
Both Feet on the Ground: An Autobiography
Harper, 9780060570934, 400pp.
Publication Date: October 14, 2003
* Individual store prices may vary.
Description
In England, where he spent ten seasons leading his storied club Manchester United and his nation to soccer glory, he is so wildly popular that his countrymen voted him the face they'd most want to see imprinted on their money. (Winston Churchill finished second.) In Japan, where he is worshiped as much for his headline-making fashion trends as for his ability to bend a ball around a wall of defenders, women styled their bikini waxes after the blond mohawk he sported during the 2002 World Cup. And in Spain, within days of his $41 million trade to Real Madrid, his new team received two million requests to buy his number 23 jersey. The legend of David Beckham -- soccer god, global sex symbol, style icon -- has been celebrated around the world, arguably more than Tiger Woods and Michael Jordan combined. Now, with the publication of his long-awaited autobiography, the man who inspired the surprise hit movie Bend It Like Beckham is set to conquer the last remaining outpost where soccer is not a national religion: the United States.
Beckham is a classic rags-to-riches saga: a boy, David, is born to a poor East End London family. He develops prodigious soccer skills, and his parents nurture him until he becomes one of the most gifted athletes of his generation. He grows up to marry Victoria -- a Spice Girl, "Posh" -- and enters a celebrity whirlwind of Princess Diana -- esque proportions. Together, the Beckhams are Britain's new royal couple -- their 240-acre estate outside of London is known as Beckingham Palace -- and their presence at parties or charity events guarantees endless tabloid stories and photos as well as adoring mobs that must be restrained by police barricades. Their life is as much a study in managing fame as it is in sports and pop phenomena.
In Beckham he talks candidly about the pressures of celebrity -- his wife and sons were the targets of a 2002 kidnapping plot; how he balances his roles as a devoted husband and besotted father with his globetrotting existence as an international soccer player; the behind-the-scenes stories of his most memorable career moments, such as the penalty kick against archrival Argentina in the World Cup that redeemed him to a nation who blamed him for their failure in the previous World Cup; the controversy surrounding his move to Real Madrid and the falling out with the man who shaped his career, Manchester United's famously combative manager Sir Alex Ferguson; and, finally, his love of America -- his first son was conceived in and named Brooklyn -- where, like the great Pelé, David can imagine playing out his final seasons.
So much has been written about David Beckham that it's easy to think we know everything about the world's most famous athlete, but only Beckham himself can set the record straight on his beliefs, his dreams, his loves, his fears, and, above all, his sense of who he is. Beckham is an intimate account of an extraordinary life, a life in which, against all odds, he has managed to keep both feet on the ground.
About the Author
David Beckham, who currently plays for Real Madrid, is the soccer world's biggest star.
Tom Watt is an English actor, writer, and broadcaster. Television, film, and stage credits include EastEnders, Patriot Games, and Fever Pitch. Tom has broadcast about soccer extensively in the U.K. and the U.S. He co-produced the innovative children's sports series Rookies for Channel Four television and created the successful Row Z for BBC Choice TV. After presenting sports shows over the past ten years for BBC and independent radio and television stations, he is currently the lead presenter for BBC London's soccer coverage and hosts weekly programs for Arsenal's club TV channel.
As well as writing about soccer for every major U.K. newspaper, Tom is the author of several books about the game: The End, a groundbreaking oral history of Arsenal FC; A Passion for the Game, ninety firsthand accounts of life behind the scenes in English football; The Greatest Stage, the official history of Wembley Stadium; and, most recently, My Side, the bestselling autobiography of David Beckham. Tom also produces schoolbooks built around soccer, the latest of which, a twelve-book series called The Jags, was published earlier this year.
Praise For Beckham: Both Feet on the Ground: An Autobiography…
"Smashing. . .Beckham is a magnet for controversy"
— Sports Illustrated
or
Not Currently Available for Direct Purchase