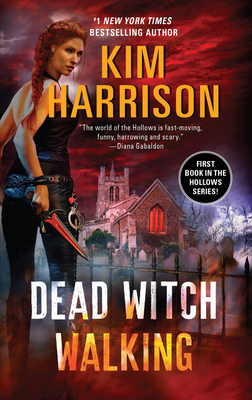 Dead Witch Walking (Hollows #1) (Paperback)
Harper Voyager, 9780060572969, 432pp.
Publication Date: April 27, 2004
* Individual store prices may vary.
Description
All the creatures of the night gather in "the Hollows" of Cincinnati, to hide, to prowl, to party . . . and to feed.
Vampires rule the darkness in a predator-eat-predator world rife with dangers beyond imagining—and it's Rachel Morgan's job to keep that world civilized.
A bounty hunter and witch with serious sex appeal and an attitude, she'll bring 'em back alive, dead . . . or undead.
About the Author
New York Times bestselling author Kim Harrison was born and raised in the upper Midwest. Her bestselling Hollows novels include Dead Witch Walking; The Good, the Bad, and the Undead; Every Which Way But Dead; A Fistful of Charms; For a Few Demons More; The Outlaw Demon Wails; White Witch, Black Curse; Black Magic Sanction; Pale Demon, A Perfect Blood, Ever After, and The Undead Pool, plus the short story collection Into the Woods, The Hollows Insider and graphic novels Blood Work and Blood Crime. She also writes the Madison Avery series for young adults.
Praise For Dead Witch Walking (Hollows #1)…
"Fast-paced and loads of fun—the perfect read when you just want to get away from things for a bit."
— Fantasy & Science Fiction

"You'll love this bounty-hunter team. … A fun-fair ride through a fascinating version of our world."
— Charlaine Harris, USA Today Bestselling Author of Club Dead

"Blends the best qualities of Anita Blake and Stephanie Plum… Kim Harrison carries it off with style."
— Jim Butcher

"A wonderfully fun romp through the supernatural world, a spellbinding blend of sharp wit and vivid imagination."
— Kelley Armstrong