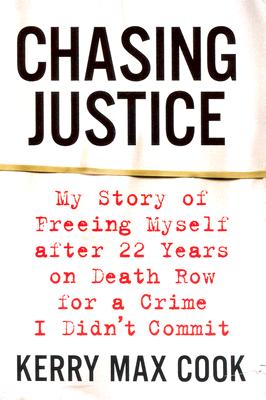 Chasing Justice (Hardcover)
My Story of Freeing Myself After Two Decades on Death Row for a Crime I Didn't Commit
William Morrow, 9780060574642, 352pp.
Publication Date: February 27, 2007
Other Editions of This Title:
Paperback (3/11/2008)
* Individual store prices may vary.
Description
Kerry Cook is an innocent man who wrongly served two decades in Texas's notorious death house for the brutal 1977 rape and murder of 21-year-old Linda Jo Edwards. His struggle for freedom is said to be one of the worst cases of police and prosecutorial misconduct in American history.
In the summer of 1977, Cook was staying in Tyler, TX. He met an attractive young woman named Linda Edwards and was invited back to her apartment for a drink and left his fingerprints on the sliding glass door. Four days later, Ms. Edwards was found brutally murdered. When the police dusted for prints, they found Cook's and immediately arrested him. Edward Jackson testified that Cook confessed to the murder during a jailhouse conversation. Jackson was set free, only to kill again several years later. Cook, on the other hand, was convicted and sentenced to death.
He was thrown into a world for which no one could be prepared, and he survived beatings, sexual abuse, and depression; all the while, he fought against a justice system that was determined to keep him quiet and loath to admit a mistake. Through the work of a crusading group of lawyers who forced a series of retrials, his case made its way to the U.S. Supreme Court, which ordered the case be reconsidered. It wasn't until the spring of 1999 that Cook was finally able to put the nightmare behind him: long-suppressed DNA evidence had linked James Mayfield, Linda Edwards's ex-lover, to the crime.
About the Author
Kerry Max Cook was born in Stuttgart, Germany, and spent much of his youth on army bases in Europe. In 1972, he and his family returned to the United States to live in Texas. Since gaining his freedom, Cook has been an outspoken advocate for legal reform. He has made numerous national and international media appearances and has lectured at Princeton, Yale, and the University of Chicago. His story was incorporated into the acclaimed play The Exonerated, of which he is often a cast member. He was awarded a Soros Justice Fellowship to write Chasing Justice.
Praise For Chasing Justice: My Story of Freeing Myself After Two Decades on Death Row for a Crime I Didn't Commit…
"Chasing Justice is an immensely compelling story that is hard to believe. If it were fiction, no one would believe it. But it's not, and Kerry Cook's account of his nightmare is fascinating."
— John Grisham

"Chasing Justice is captivating...It is going to break through political barriers and be a catalyst for reform.
— Sister Helen Prejean, author of Dead Man Walking

"The incredible story of this enforced visit to hell and back is a modern day version of Dante and Kafka."
— Alan Dershowitz, Harvard Law School

"I dare you to read this book. . . An inspiring human being."
— Richard Dreyfuss

"A brutal but compelling account. . . . Amazing."
— William S. Sessions, former FBI Director and federal judge

"Deserves a wide readership alongside John Grisham's The Innocent Man.
— Publishers Weekly

"An inmate's harrowing first-person account of a travesty of Texas jurisprudence."
— Kirkus Reviews

"Kafka-esque...That he survived is astounding; the circumstances that finally freed him...are nearly miraculous."
— Texas Monthly

"Cook's story is so gripping that only a heart of steel won't break after reading it."
— People
or
Not Currently Available for Direct Purchase