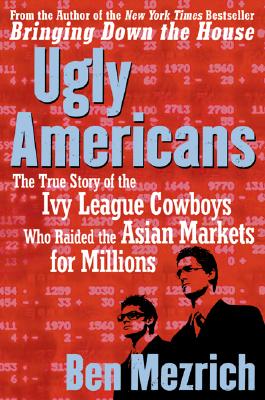 Ugly Americans
The True Story of the Ivy League Cowboys Who Raided the Asian Markets for Millions
Hardcover

* Individual store prices may vary.
Other Editions of This Title:
Digital Audiobook (5/3/2004)
Paperback (4/26/2005)
Paperback (7/1/2005)
Description
Ben Mezrich, author of the New York Times bestseller Bringing Down the House, returns with an astonishing story of Ivy League hedge-fund cowboys, high stakes, and the Asian underworld.
Ugly Americans is the true story of John Malcolm, a hungry young Princeton grad who traveled halfway around the world in search of the American dream and ultimately pulled off a trade that could, quite simply, be described as the biggest deal in the history of the financial markets.
After receiving a mysterious phone call promising him a shot at great fortune in an exotic land, Malcolm packed up his few belongings and took the chance of a lifetime. Without speaking a word of Japanese, with barely a penny in his pocket, Malcolm was thrown into the bizarre, adrenaline-fueled life of an expat trader. Surrounded by characters ripped right out of a Hollywood thriller, he quickly learned how to survive in a cutthroat world -- at the feet of the biggest players the markets have ever known.
Malcolm was first an assistant trading huge positions for Nick Leeson, the twenty-six-year-old rogue trader who lost nearly two billion dollars and brought down Barings Bank -- the oldest in England. Then he was the right-hand man to an enigmatic and brilliant hedge-fund cowboy named Dean Carney, and grew into one of the biggest derivatives traders in all of Asia. Along the way, Malcolm fell in love with the daughter of a Yakuza gangster, built a vast fortune out of thin air, and came head-to-head with the violent Japanese mobsters who helped turn the Asian markets into the turbulent casino it is today.
Malcolm and his twentysomething, Ivy League-schooled colleagues, with their warped sense of morality and proportion, created their own economic theory: Arbitrage with a Battle Axe. They rode the crashing waves of the Asian markets during the mid- to late 1990s, culminating in a single deal the likes of which had never been seen before -- or since.
A real-life mixture of Liar's Poker and Wall Street, brimming with intense action, romance, underground sex, vivid locales, and exotic characters, Ugly Americans is the untold, true story that will rock the financial community and redefine an era.
Praise For Ugly Americans: The True Story of the Ivy League Cowboys Who Raided the Asian Markets for Millions…
"A high-octane passion play pitting a young man's ambition against his sense of humanity."
-Oregonian
William Morrow, 9780060575007, 288pp.
Publication Date: May 1, 2004
or
Not Currently Available for Direct Purchase