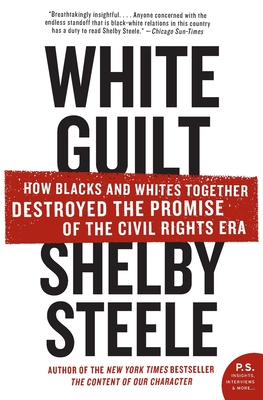 White Guilt: How Blacks and Whites Together Destroyed the Promise of the Civil Rights Era (Paperback)
How Blacks and Whites Together Destroyed the Promise of the Civil Rights Era
Harper Perennial, 9780060578633, 181pp.
Publication Date: May 29, 2007
Description
In 1955 the killers of Emmett Till, a black Mississippi youth, were acquitted because they were white. Forty years later, despite the strong DNA evidence against him, accused murderer O. J. Simpson went free after his attorney portrayed him as a victim of racism. The age of white supremacy has given way to an age of white guilt--and neither has been good for African Americans.
Through articulate analysis and engrossing recollections, acclaimed race relations scholar Shelby Steele sounds a powerful call for a new culture of personal responsibility.
Praise For White Guilt: How Blacks and Whites Together Destroyed the Promise of the Civil Rights Era…
"There is no writer who deserves black America's allegiance more than Shelby Steele... Steele's writing is a marvel."
-John McWhorter, National Review

"Piercing and personal... WHITE GUILT is a brilliant little essay, deserving of a large and appreciative audience."
-Washington Times

"Thought provoking."
-Library Journal

"Powerful, lucid and elegant...On questions of race in America--white guilt, black opportunism--[Steele] is our 21st century Socrates."
-Charles Johnson, author of MIDDLE PASSAGE, National Book Award winner

" Shelby Steele is America's clearest thinker about America's most difficult problem."
-George F. Will

"A hard, critical look at affirmative action, self-serving white liberals and self-victimizing black leaders."
-Publishers Weekly

"Prophet or polemicist, Steele is a graceful and often compelling literary stylist... [and] deserves a wide readership."
-Cleveland Plain Dealer

"As delightful a read as one can find on a book devoted to America's historically most contentious topic."
-New York Post
Advertisement