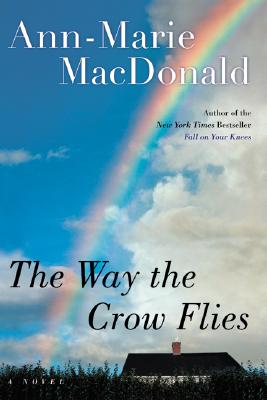 The Way the Crow Flies (Hardcover)
A Novel
Harper, 9780060578954, 736pp.
Publication Date: September 23, 2003
Other Editions of This Title:
Paperback (8/31/2004)
* Individual store prices may vary.
Description
 "One of the finest novels I've read . . . .a fiercely intelligent look at childhood, marriage, families, the 1960s, the Cold War and the fear and isolation that are part of the human condition…. it is not only beautifully written…. it is equally beautiful in its conception, its compassion, its wisdom, even in its anger and pain. Don't miss it."  — Patrick Anderson, Washington Post Book World
The optimism of the early sixties, infused with the excitement of the space race and the menace of the Cold War, is filtered through the rich imagination of high-spirited, eight-year-old Madeleine, who welcomes her family's posting to a quiet Air Force base near the Canadian border. Secure in the love of her beautiful mother, she is unaware that her father, Jack, is caught up in a web of secrets. When a local murder intersects with global forces, Jack must decide where his loyalties lie, and Madeleine will be forced to learn a lesson about the ambiguity of human morality -- one she will only begin to understand when she carries her quest for the truth, and the killer, into adulthood twenty years later.
About the Author
Novelist and dramatist Ann-Marie MacDonald is the author of the internationally bestselling and award-winning novel Fall on Your Knees. She is also the playwright of Goodnight Desdemona, Good Morning Juliet, which won the Governor General's Award for Drama. She lives in Toronto.
Praise For The Way the Crow Flies: A Novel…
"Both terrifying and moving."
— New York Times Book Review

"Astonishing in its depth and breath, it artfully weaves one family's struggles into the fabric of the Cold War."
— People

"A powerful story, delicately layered with complex secrets, told with a masterful command of narrative and a strong moral message."
— Publishers Weekly (starred review)

"MacDonald's most impressive accomplishment is her uncanny ability … to vividly re-create the wonder, humor, and fears of childhood."
— Booklist (starred review)

"Ambitious … intriguing … A grand sweeping saga."
— Kirkus Reviews

"Rich and complex … hard to put down … MacDonald deserves another prize for THE WAY THE CROW FLIES."
— San Diego Union-Tribune

"Beautifully crafted … To submit to … THE WAY THE CROW FLIES is to be both transported and haunted."
— Seattle Times

"Ambitious … interesting …tender, generous …[THE WAY THE CROW FLIES] is both an unblinking and a big hearted book."
— St. Louis Post-Dispatch

"Heartbreaking, startling, profound."
— New Jersey Courier Post