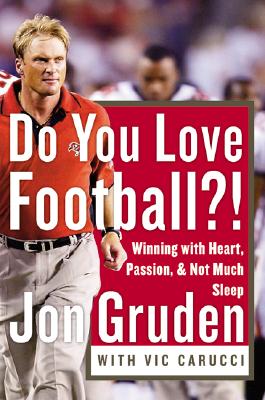 Do You Love Football?!
Winning with Heart, Passion, and Not Much Sleep
Hardcover

* Individual store prices may vary.
Other Editions of This Title:
Paperback (8/10/2004)
Description
"I'm not a scratch golfer. I don't know how to bowl. I can't read the stock market. Hell, I have a hard time remembering my wife's cell phone number. But I can call 'Flip Right Double X Jet 36 Counter Naked Waggle at 7 X Quarter' in my sleep."
Sleep? Well, Jon Gruden doesn't sleep much. Driven by a never-ending quest to learn and achieve, the NFL's hottest coach -- and youngest ever to win the Super Bowl -- gives readers field-level access to the heart, passion, and principles that have carried him on the wild ride to the top of his profession.
Winning is in Gruden's blood. The son of a football lifer, he followed his dad to various programs, including Indiana, where he was a ball boy to Bobby Knight's Hoosiers, and to Notre Dame, where he had an insider's view of Dan Devine's Fighting Irish. Watching them inspired him so that when he realized his hands were too small to be a pro football player, this Division III quarterback decided he'd coach. Insanely detail oriented, he practiced drawing circles, thousands of them, so that he could chart plays perfectly.
Still, Jon couldn't tell the difference between a three-technique and a five-technique. That drove him to work even harder, though, and he would pick up the fundamentals from top-notch college programs that would prepare him to work in the birthplace of the West Coast offense, San Francisco, for the start of what he viewed as the NFL version of a Harvard education.
It was there -- under the tutelage of Mike Holmgren, brilliant offensive-line guru Bobb McKittrick, and George Seifert -- that Jon's philosophy of composing a championship offense and a championship organization was forged. Working closely with a frustrated Steve Young, Gruden looked on as Montana and Rice exploded onto the scene. There, Gruden also met defensive coordinator Ray Rhodes. When Rhodes left for the Eagles to be head coach, he took Gruden with him as offensive coordinator. At thirty-one, he designed an offense that became one of the most prolific in the NFL.
After three seasons came Al Davis, the legendary owner of the Oakland Raiders. Finally, at thirty-four, Gruden was a head coach. There he turned a 4-12 franchise into a Super Bowl contender, turning journeyman Rich Gannon into a Pro Bowl quarterback and working with such legendary players as Jerry Rice and Tim Brown -- all while being the youngest coach in the NFL.
After four successful seasons with the Raiders, the unexpected happened: Gruden was "traded" to the Tampa Bay Bucs for four top-round draft picks and $8 million cash. Dealing with incredibly high expectations, Gruden guided a team that had always made it to the playoffs but didn't have the wherewithal to win the Super Bowl. How he accomplished this feat is yet another remarkable aspect to his incredible story.
If you want to know what it takes to win, if you want to know the difference between a veer and a loop scheme, if you want to know how a leading-edge coach prepares for a game and have insight into the millions of thoughts that stream through his mind on game day, if you want to know what it's like to be the NFL's hottest coach, if when someone asks, "Do you love football?" -- and the answer is yes, then this book is for you.
Harper, 9780060579449, 256pp.
Publication Date: September 16, 2003
About the Author
Jon Gruden lives with his wife and three sons in Tampa, Florida.
Vic Carucci is the national editor of NFL.com and the coauthor of a number of bestsellers, including Do You Love Football?! with Jon Gruden and Sunday Morning Quarterback with Phil Simms. He lives in East Amherst, New York.
or
Not Currently Available for Direct Purchase