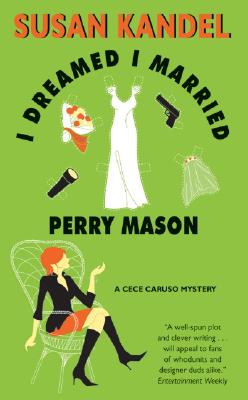 I Dreamed I Married Perry Mason (Mass Market Paperbound)
Avon Books, 9780060581060, 304pp.
Publication Date: March 29, 2005
* Individual store prices may vary.
or
Not Currently Available for Direct Purchase
Description
I Dreamed I Married Perry Mason is the debut novel in a hip, sexy, smart and, yes, cozy mystery series with a great hook. Think Sex and the City collides with Murder, She Wrote.
All that writer Cece Caruso really wants to do is complete her biography of mystery legend Erle Stanley Gardner, find a vintage 1970s Ossie Clark gown to add to her collection, and fix the doorknob on her picturesque West Hollywood bungalow. Then a chance visit with a prison inmate who knew Gardner lands her right in the middle of a 40-year-old murder and another case where the blood is still warm. In fact, Cece finds the body. This brings her into irresistible contact with her inner personal sleuth and shows how crime and greed can reverberate through several generations of a single family.
Praise For I Dreamed I Married Perry Mason…
"This lively and slightly idiosyncratic heroine, the sometimes exotic California surrounds, and the complicated plotting make this series debut essential."
-Library Journal

"Thumbs up to newcomer Kandel's series for its snappy dialogue and carefully worked-out plot."
-Kirkus Reviews (starred review)

"A well-spun plot and clever writing."
-Entertainment Weekly

"Cece Caruso is the new girl on the mystery block, and is she ever a hoot....lively reading."
-Rocky Mountain News

"This first novel straddles, rather elegantly, the genres of 'chick-lit beach book' and 'smart mystery.'"
-LA Weekly

"This is a book that would make Perry Mason proud."
-Mystery Scene
Advertisement