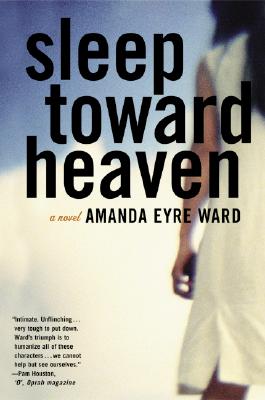 Sleep Toward Heaven
A Novel
Paperback

* Individual store prices may vary.
Other Editions of This Title:
Digital Audiobook (6/23/2011)
Description
By the New York Times bestselling author of Reese Witherspoon x Hello Sunshine Book Club pick The Jetsetters, the impressive debut novel about three disparate women who are irrevocably connected by one crime and a brutal Texas summer on death row.
In Gatestown, Texas, twenty-nine-year-old Karen awaits her execution on Death Row. In Manhattan, Franny Wren, a twenty-nine-year-old doctor, plans her wedding to her college sweetheart and resists the urge to run from a carefully crafted and seemingly satisfying life. In Austin, Texas, Celia, a brassy young librarian, mourns her murdered husband and struggles to find a sense of self, wholeness and a will to live.
A luminous story of murder and desire, solitude and grace, fate pushes these eerily recognizable women together, culminating in a revelation of the possibility of faith, the responsibility of friendship, the value of life and the execution of a serial murderer.
Praise For Sleep Toward Heaven: A Novel…
"It's funny and sad and redemptive. Read it now. Thank me later." — Jennifer Weiner, New York Times bestselling author of Good in Bed and In Her Shoes
"Hauntingly rich, wise and sharply etched." — James Ellroy
"Sleep Toward Heaven is a merciful gaze on the lives of three women inextricably linked by murder and ultimate grace. Brutal, beautiful, wise--Amanda Eyre Ward has written a storm of a novel. It will rattle the cage of your heart." — Debra Magpie Earling, author of Perma Red
"In this ambitious debut novel, with cinematic scope and a probing eye, Amanda Eyre Ward takes her readers inside he criminal justice system and into the hearts and minds of three women whose lives literally hang in each other's hands during a few desperately hot months of Texas summer." — Thisbe Nissen, author of The Good People of New York
"Ward's no-nonsense, unflinching prose and her complex but never confounding structure make this novel very tough to put down. But her greater triumph is her ability to humanize all these characters." — O, The Oprah Magazine
"Sometimes the best fiction is inspired by fact, as in the case of Sleep Toward Heaven, a first novel that manages to be both socially relevant and completely personal...wonderfully sewed to the fringe of autobiography, in this case searching for an answer to the question: 'Is that darkness within me?'" — New York Post
"How do we forgive the unforgivable? First-time novelist Ward explores this question with a delicate blend of compassion, humor and realism. Ward's celebration of human resilience never becomes preachy, sentimental or politically heavy-handed. Her spare but psychologically rich portraits are utterly convincing."  — Publishers Weekly
"Razor-sharp writing and characters that are believably rendered. Faith, forgiveness and redemption comprise tried and true terrain in fiction. Ward delivers all three without manipulation or melodrama. She has woven a wonderful fictional tapestry with meaning embedded in the threads." — Fort Lauderdale Sun-Sentinel
"Ward intertwines the lives of three women in a poignant tale of benevolence and brutality, whose compelling images resonate long after the final page has been turned. Her sharply drawn characters ponder life's capital-letter concepts—Guilt, Vengeance, Forgiveness. Her tone is masterfully restrained, impassioned without being preachy, and darkly humorous. . . . Ward's astonishing debut blends pathos and suspense into the rarest of fictional breeds—a literary page-turner." — BookPage
"Surprisingly sympathetic. . . smartly rendered. Nothing about Sleep Toward Heaven reads like a first novel. . . . [Ward] puts faces on people we don't like to think about. And she conjures up a completely believable microsociety—funny and tragic and imbued with the morbid irony that comes from waking up each morning knowing the exact day and time you'll die." — Texas Monthly
"[Ward] gives us vivid, often jarring images of life in and about women's death row. Remarkable and surprising." — Texas Observer
"Like a Rorschach test, Sleep Toward Heaven...prompt[s] readers to look into their own minds and hearts." — Charlotte Observer
Harper Perennial, 9780060582296, 304pp.
Publication Date: February 17, 2004
About the Author
Amanda Eyre Ward is the critically acclaimed author of seven novels, including The Jetsetters, How to Be Lost, Close Your Eyes, The Same Sky, and The Nearness of You. She lives in Austin, Texas, with her family.