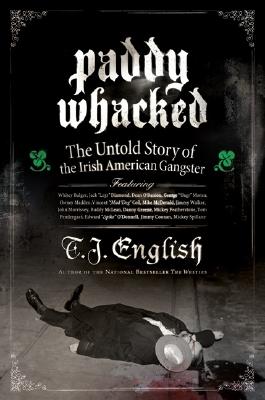 Paddy Whacked
The Untold Story of the Irish American Gangster
Hardcover

* Individual store prices may vary.
Other Editions of This Title:
Paperback (2/21/2006)
Compact Disc (5/24/2016)
MP3 CD (5/24/2016)
Description
Here is the shocking true saga of the Irish American mob, from the mid-nineteenth century all the way to the present day. History shows that the heritage of the Irish American gangster was established in America long before that of the more widely portrayed Italian American mafioso, and has held strong through the modern age. In fact, the highest-ranking organized crime figure on the FBI's Ten Most Wanted List -- alongside Osama bin Laden -- is not a wiseguy, a Latin King, or a gangbanging Blood or Crip, but an old-style Irish American mob boss from South Boston.
In Paddy Whacked, bestselling author and organized crime expert T. J. English brings to life nearly two centuries of Irish American gangsterism, which spawned such unforgettable characters as Mike "King Mike" McDonald, Chicago's subterranean godfather; Big Bill Dwyer, New York's most notorious rumrunner during Prohibition; Mickey Featherstone, troubled Vietnam vet turned Westies gang leader from Hell's Kitchen; and James "Whitey" Bulger, the ruthless and untouchable Southie legend. This is an epic story of corrupt politics, wanton murders, gambling empires, notorious brothels, tough women, and hard-drinking pugilists from the underbelly of America's most dangerous cities -- including New York, Boston, New Orleans, Chicago, Kansas City, and Cleveland.
Combining storytelling verve with thorough research and a slew of never-before-published material -- including new interviews with former gang members -- English presents a riveting, seamless cultural history of the Irish American underworld. He offers a brilliant portrait of a people who fought tooth and nail for a better life from the moment they arrived in America, whether it meant taking charge within the realms of law enforcement and politics -- from Tammany Hall to the White House -- or capitalizing on what opportunities they could in the darker world beyond the law. Paddy Whacked is an irresistible tour of the undercarriage of our history -- a ride that stretches from the earliest New York and New Orleans street wars through decades of bootlegging scams, union strikes, gang wars, and FBI investigations ... and along the way deepens our understanding of the American experience.
William Morrow, 9780060590024, 480pp.
Publication Date: February 15, 2005
About the Author
T. J. English is a noted journalist, a screenwriter, and the author of the New York Times bestsellers Havana Nocturne, Paddy Whacked, and The Savage City, as well as of The Westies, a national bestseller, and Born to Kill, which was nominated for an Edgar Award. He has written for Vanity Fair, Playboy, and Esquire, among other publications. His screenwriting credits include episodes of the television crime dramas NYPD Blue and Homicide, for which he was awarded the Humanitas Prize. He lives in New York City.
or
Not Currently Available for Direct Purchase