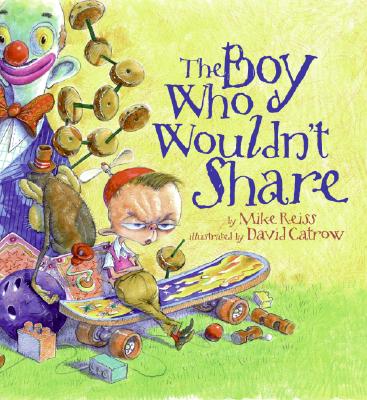 The Boy Who Wouldn't Share (Hardcover)
HarperCollins, 9780060591328, 32pp.
Publication Date: May 27, 2008
Other Editions of This Title:
Library Binding (5/27/2008)
* Individual store prices may vary.
Description
Edward has oodles of toys but doesn't share any of them with his little sister, Claire. She cannot ride his rocking horse, hug his teddy bear, or even think about touching his Slinky.
"They're mine!"
he says. That is, until one day when Edward finds himself stuck under his enormous pile of toys and can't move! With a little help from an unlikely ally, he learns that if he can share with others, they'll share right back with him.
Mike Reiss's wickedly funny verse and David Catrow's remarkable gift for comic illustration make this one book you'll want to share—again and again!
About the Author
Mike Reiss has won four Emmys and a Peabody Award during his twenty-eight years writing for The Simpsons. He ran the show in Season 4, which Entertainment Weekly called "the greatest season of the greatest show in history." In 2006, Reiss received a Lifetime Achievement Award from the Animation Writers Caucus. Reiss has written jokes for such comedy legends as Johnny Carson, Joan Rivers, Garry Shandling…and Pope Francis! For his comedic contributions to the charitable group Joke with the Pope, in 2015 Pope Francis declared Reiss "A Missionary of Joy."
David Catrow is the national bestselling illustrator of I Ain't Gonna Paint No More by Karen Beaumont. He and Mike Reiss have collaborated before with the unforgettable books How Murray Saved Christmas, Santa Claustrophobia, and The Boy Who Looked Like Lincoln. David Catrow lives in Springfield, Ohio, where he is still waiting for Santa to deliver the wildebeest he's had on his Christmas list since 1964.