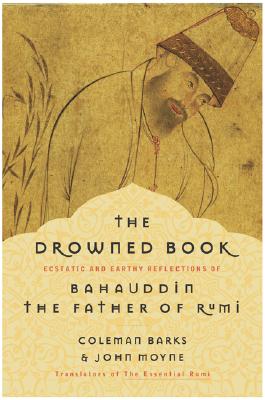 The Drowned Book (Hardcover)
Ecstatic and Earthy Reflections of Bahauddin, the Father of Rumi
HarperOne, 9780060591946, 192pp.
Publication Date: March 30, 2004
Other Editions of This Title:
Paperback (6/28/2005)
* Individual store prices may vary.
Description
Bahauddin, Rumi's father, was not only a major force in the development of Islamic spirituality, but also deeply influential in his son's life. This delightful and provocative collection reveals the depth of thirteenth-century Sufi mystical wisdom and its acute observations into nature, humanity, and the mysteries of life. Full of wit and insight, Bahauddin's notes bring to the reader a deeper understanding of his son Rumi's spiritual and intellectual heritage.
After his father's death in 1231, Rumi carried his father's spiritual notebook, known as the Maarif, everywhere. The writer Aflaki tells this story of the meeting of Rumi and Shams: Rumi is sitting by a fountain in Konya talking to his students with the Maarif open on the fountain's ledge. Suddenly, Shams interrupts the conversation and pushes the precious text into the water.
"Who are you and why are you doing this?" asks Rumi, protesting that this copy of his father's diary is the only one in existence.
Shams replies, "It is time for you to live what you have been reading of and talking about. But if you want, we can retrieve the book. It will be perfectly dry. See?" And he lifts Bahauddin's notebook out, "Dry."
Rumi set aside his father's book and joined Shams; but now, in this first-ever translation of the vital passages of the Maarif, renowned poet Coleman Barks and Persian scholar John Moyne open a window into the world of Rumi, the young man who became one of the world's best-loved poets and great spiritual teachers.
About the Author
Coleman Barks is a renowned poet and the bestselling author of The Essential Rumi, Rumi: The Big Red Book, The Soul of Rumi, Rumi: The Book of Love, and The Drowned Book. He was prominently featured in both of Bill Moyers' PBS television series on poetry, The Language of Life and Fooling with Words. He taught English and poetry at the University of Georgia for thirty years, and he now focuses on writing, readings, and performances.
Praise For The Drowned Book: Ecstatic and Earthy Reflections of Bahauddin, the Father of Rumi…
"We will return to this extraordinary Sufi book again and again to whet our appetite for yearning, mystery, and grace."
— Spirituality and Health
or
Not Currently Available for Direct Purchase