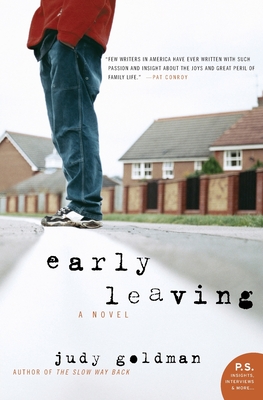 Early Leaving
A Novel
Paperback

* Individual store prices may vary.
Other Editions of This Title:
Hardcover (9/21/2004)
Description
A mother wakes one morning to find the police at her door to arrest her only child–a star athlete and honor student–for murder.
The Smallwoods are one of those families who project a rosy image, exactly what we all hoped and imagined our lives would be. Peter Smallwood is a patent attorney with the oldest firm in town. Kathryne is president of parents' council at the private high school their son, Early, attends. She is an over–involved mother; Peter is under–involved. She's excessive when she should hold back; he's stingy when fullness is needed. Kathryne is so protective of their son, so overbearing, that the only way out for him is to disappoint her in a profound way. The novel opens the night before his sentencing. It covers the next thirteen months and flashes back to family memories Kathryne has told again and again through the years, trotting them out like scrubbed children–as well as the memories she would just as soon forget.
EARLY LEAVING is Kathryne's story. She probes the pieces of the past to see if she should have seen the end coming. Was there any point where she might have come between her son and what lay in wait for him? Or was it just the randomness of fate and its consequences? Was she the cause? All she ever wanted was to keep him safe and happy. Isn't that what every mother wants?
Praise For Early Leaving: A Novel…
"A mother goes to great lengths to defend her son in this sentimental domestic tale with a racial spin."
— Publishers Weekly

"Goldman's brutally honest dramatization of a dysfunctional family makes provocative reading."
— Booklist

"Every mother should read Judy Goldman's new novel, Early Leaving."
— Winston-Salem Journal

"It's Early Leavings' themes, rather than simply its plot, that make it a page-turning read."
— Lexington Herald-Leader

"Early Leaving is a disturbing book about a teenager who is given every advantage but still goes horribly wrong."
— Detroit Free Press

"As in her first novel, The Slow Way Back, Goldman displays a keen eye here for the character-defining detail."
— Washington Post

"Haunting questions of parenthood ripple through the pages of this thoughtful second novel."
— Seattle Post-Intelligencer

"Early Leaving is a delicate portrait of self-deception."
— Star News (Wilmington, N.C.)
Harper Perennial, 9780060594596, 320pp.
Publication Date: October 18, 2005
About the Author
Judy Goldman's first novel, The Slow Way Back, won the Sir Walter Raleigh Fiction Award and the Mary Ruffin Poole First Work of Fiction Award, and was a finalist for the Southeast Booksellers Association's Best Novel of the Year. She is also the author of two books of poetry. Her work has been published widely in literary journals, and her commentaries have aired on public radio. She and her husband live in Charlotte, North Carolina. They have two married children and twin granddaughters.