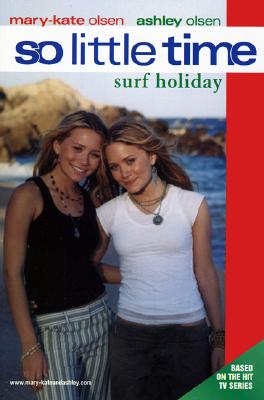 So Little Time #16
Surf Holiday
Paperback

* Individual store prices may vary.
Description
This year Riley and Chloe are spending Christmas with Dad in his trailer on the beach. That means no Christmas tree, no Yule log and no Mom, who has to go away to help her ailing aunt. That's when Chloe and Riley decide on the best Christmas present of all. They're going to get their parents back together again for good, no matter what it takes.
Ages 9–15
HarperEntertainment, 9780060595159, 128pp.
Publication Date: November 30, 2004
About the Author
Mary-Kate and Ashley have been celebrities since the day when, at the age of nine months, they joined the cast of the hit sitcom "Full House" in their shared role as Michelle. Each of Mary-Kate and Ashley's 14 years since has witnessed the outstanding expansion of their popularity...their fans have literally grown up alongside the twins! First in television and feature films, Mary-Kate and Ashley now appear in videos, music, interactive software, fashion dolls and accessories, and more. Their latest ventures include launching their official website and debuting a line of licensed fashion clothing, as well as their very own magazine in spring 2001.
Mary-Kate & Ashley books launched in 1990, and today the various book series continue to grow to reflect the ever-evolving lifestyles of kids, 'tweens, and teens. HarperEntertainment and Parachute Publishing release twenty-five books a year and have sold more than 30 million copies. Mary-Kate and Ashley's two book series Two of a Kind and The New Adventures of Mary Kate and Ashley are frequent USA Today bestsellers. And Mary-Kate & Ashleynovelties, such as Wall Calendars, a Mood Diary, a Be My Valentinecard-making kit, and the movie tie-in series, Starring-In continue to be hugely popular.
The growth of the Mary-Kate & Ashley brand has afforded Parachute and Harper the opportunity to work with companies such as Acclaim Entertainment, Mattel Inc., Warner Home Video, Kid Rhino, Lightyear Entertainment, Sail with the Stars on cross-promotional and cross-merchandise projects, including a very special, book-dedicated area on mary-kateandashley.com -- Now Read This!
or
Not Currently Available for Direct Purchase