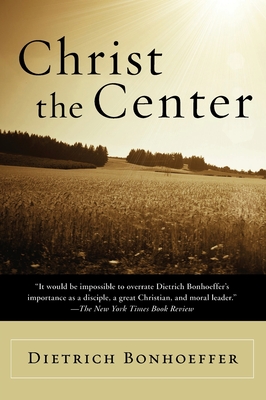 Christ the Center (Paperback)
HarperOne, 9780060608118, 128pp.
Publication Date: August 12, 2009
Description
The New York Times Book Review states, "It would be impossible to overrate Dietrich Bonhoeffer's importance as a disciple, a great Christian and moral leader." Christ the Center cogently presents the basis of Bonhoeffer's thinking about Jesus Christ and offers the key to his entire theology. A classic work of Christological thought, both edifying and uplifting, Christ the Center is an enlightening guide to faith and action in uncertain times.
Praise For Christ the Center…
"It would be impossible to overrate Dietrich Bonhoeffer's importance as a disciple, a great Christian and moral leader."
-JOHN MACQUARRIE, The New York Times Book ReviewJOHN MACQUARRIE, The New York Times Book ReviewJOHN MACQUARRIE, The New York Times Book ReviewJOHN MACQUARRIE, The New York Times Book ReviewJOHN MACQUARRIE, The New York Times Book ReviewJohn Macqu
Advertisement