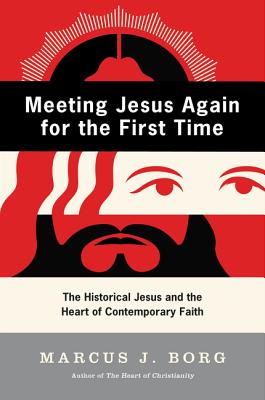 Meeting Jesus Again for the First Time
The Historical Jesus and the Heart of Contemporary Faith
Paperback

* Individual store prices may vary.
Description
Of the many recent books on the historical Jesus, none has explored what the latest biblical scholarship means for personal faith. Now, in Meeting Jesus Again for the First Time, Marcus Borg addresses the yearnings of those who want a fully contemporary faith that welcomes rather than oppresses our critical intelligence and openness to the best of historical scholarship. Borg shows how a rigorous examination of historical findings can lead to a new faith in Christ, one that is critical and, at the same time, sustaining.
Drawing on his own journey from a naïve, unquestioning belief in Christ through collegiate skepticism to a mature and contemporary Christian faith, Borg illustrates how an understanding of the historical Jesus can actually lead to a more authentic Christian life—one not rooted in creed or dogma, but in a life of spiritual challenge, compassion, and community.
In straightforward, accessible prose, Borg looks at the major findings of modern Jesus scholarship from the perspective of faith, bringing alive the many levels of Jesus's character: spirit person, teacher of alternative wisdom, social prophet, and movement founder. He also reexamines the major stories of the Old Testament vital to an authentic understanding of Jesus, showing how an enriched understanding of these stories can uncover new truths and new pathways to faith.
Praise For Meeting Jesus Again for the First Time: The Historical Jesus and the Heart of Contemporary Faith…
"In this small but eloquent and learned book, Borg… directs his readers, especially those who have found no meaningful image of Jesus, away from confessed doctrines about Jesus (what the gospels and the churches say about Him) and toward a relationship with the Spirit of God."
— Publishers Weekly

"Borg provides an account of contemporary Jesus scholarship-told in simply language for lay readers-and of his personal struggle to find authentic, mature faith. Highly recommended."
— Library Journal

"Just the sort of book on Jesus that we really need--a classy wedding of first-rate biblical research and solid spirituality in beautiful, clear English that makes it a pleasure to read."
— Sandra M. Schneiders, Graduate Theological Union, author of The Relevatory Text

"A book of rare excellence."
— L. William Countryman, The Church Divinity School of the Pacific

"For many contemporary Christians, Biblical scholarship is seen as the enemy of faith. In a personal and highly readable account, Marcus Borg shows how Christians can explore contemporary scholarship as a way toward a far more dynamic and meaningful faith."
— Rosemary Radford Ruether, author of Gaia and God

"It is impossible to read this beautifully written book and remain unenlightened by the results of Jesus research, or untouched by the power of Jesus' way."
— Elizabeth A. Johnson, author of She Who Is

"Borg has done a great service for all of us in drawing upon contemporary research to present a fresh and imaginative picture of Jesus that has profound implications for contemporary faith."
— Praying
HarperOne, 9780060609177, 160pp.
Publication Date: April 7, 2015
About the Author
Marcus J. Borg (1942–2015) was a pioneering author and teacher whom the New York Times described as "a leading figure in his generation of Jesus scholars." He was the Hundere Distinguished Professor of Religion and Culture at Oregon State University and canon theologian at Trinity Episcopal Cathedral in Portland, and he appeared on NBC's The Today Show and Dateline, ABC's World News, and NPR's Fresh Air. His books have sold over a million copies, including the bestselling Meeting Jesus Again for the First Time, Reading the Bible Again for the First Time, Jesus, The Heart of Christianity, Evolution of the Word, Speaking Christian, and Convictions.