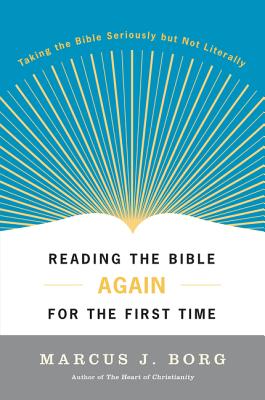 Reading the Bible Again for the First Time
Taking the Bible Seriously but Not Literally
Paperback

* Individual store prices may vary.
Other Editions of This Title:
Hardcover (2/20/2001)
Description
Many Christians mistakenly believe that their only choice is either to reconcile themselves to a fundamentalist reading of scripture (a "literal-factual" approach) or to simply reject the Bible as something that could bring meaning and value into their lives. In Reading the Bible Again for the First Time, Marcus Borg shows how instead we can freshly appreciate all the essential elements of the Old and New Testaments—from Genesis to Revelation—in a way that can open up a new world of intelligent faith.
In Reading the Bible Again for the First Time, Borg reveals how it is possible to reconcile a scientific and critical way of thinking with our deepest spiritual needs, leading to an insightful experience of ancient text. This unique book invites every reader—whatever his or her religious background—to engage the Bible, to wrestle with its meaning, to explore its mysteries, and to understand its relevance. Reading the Bible Again for the First Time shows us how to encounter the Bible in a fresh, new way that rejects the limits of simple literalism and opens up the rich possibility of living a life of authentic faith.
Praise For Reading the Bible Again for the First Time: Taking the Bible Seriously but Not Literally…
"[A]n accessible book, almost entirely devoid of scholarly jargon but filled with scholarly insight."
— Christian Century

"Borg writes passionately about the enduring values of the Bible. The engaging historical details he includes make familiar stories read like new. Whether you read the Bible religiously or rarely, this book is thought-provoking."
— Christian Science Monitor

"Borg… has a knack for clarifying difficult theological issues and writing in a pensive style that is extremely accessible to Christian laity and seekers of all stripes. Almost single-handedly, he opened up new avenues of thought for lapsed or nonbelievers interested in re-visioning the Christianity of their childhood."
— Spirituality and Practice

"Provides many excellent metaphorical readings of biblical accounts, which unify the Bible's stories."
— Library Journal

"A highly readable and succinct introduction to biblical criticism."
— Publishers Weekly

"[T]akes the Bible back from the specialists…nothing short of a blessing, even a miracle!"
— Peter J. Gomes, author of The Good Book: Reading the Bible With Heart and Mind

"Borg's analysis is profound, challenging and engrossing; it will enable readers to use scripture creatively once again and truly make it a bridge for the divine."
— Karen Armstrong, author of A History of God

"This welcome book removes many of the barriers that separate thoughtful people from the wisdom of the Bible."
— Rabbi Harold Kushner, author of When Bad Things Happen to Good People
HarperOne, 9780060609191, 336pp.
Publication Date: April 7, 2015
About the Author
Marcus J. Borg (1942–2015) was a pioneering author and teacher whom the New York Times described as "a leading figure in his generation of Jesus scholars." He was the Hundere Distinguished Professor of Religion and Culture at Oregon State University and canon theologian at Trinity Episcopal Cathedral in Portland, and he appeared on NBC's The Today Show and Dateline, ABC's World News, and NPR's Fresh Air. His books have sold over a million copies, including the bestselling Meeting Jesus Again for the First Time, Reading the Bible Again for the First Time, Jesus, The Heart of Christianity, Evolution of the Word, Speaking Christian, and Convictions.