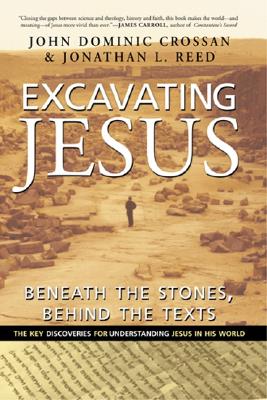 Excavating Jesus (Hardcover)
Beneath the Stones, Behind the Texts
HarperOne, 9780060616335, 320pp.
Publication Date: October 1, 2001
Other Editions of This Title:
Paperback (11/25/2003)
* Individual store prices may vary.
Description
Can the stones of ancient Palestine speak to us about the real Jesus and his message? Are there ways to discover the historical Jesus by sifting through the layers of the Gospels and other early texts? In Excavating Jesus Bible expert John Dominic Crossan and Galilean field archaeologist Jonathan L. Reed take an exhilarating look at Jesus and his world from their two different perspectives. While the phenomenal advances in our historical and textual understanding of the origins of Christianity are well known, the equally significant archaeological discoveries are much less familiar. Drawing on evidence from the ten most significant textual discoveries of biblical studies and the ten most significant archaeological digs in the cities and villages of ancient Palestine, Crossan and Reed provide a fuller portrait of Jesus, his teachings, and his followers. Together they bring to life the struggle between Roman power and the people's passionate belief in a just God.Join Crossan and Reed as they explore sites such as the house of the apostle Peter at Capernaum, a first-century fishing boat from the Sea of Galilee, and the skeleton of a crucified man -- plus textual discoveries such as the Dead Sea Scrolls and the Gospel of Thomas. The authors reveal a world where life could end instantly and violently on the whim of a king, a governor, or an ordinary Roman soldier. They show us a people willing to fight, and even die, for the right to live according to their beliefs.Excavating Jesus includes a full-color insert featuring twelve drawings by Balage Balogh, the best archaeological artist in Israel today, and black-and-white illustrations throughout. These historically accurate recreations of first-century sites reflect the most recent archaeological discoveries, telling us more about the world Jesus, his followers, and his enemies inhabited than we have ever known before. This fresh examination of the world of the Gospels offers readers a unique and fascinating opportunity to examine the evidence and decide for themselves what they believe about the nature of Jesus and his message.
Praise For Excavating Jesus: Beneath the Stones, Behind the Texts…
"Lucid arguments, elegant prose, beautiful illustrations and skillful weaving of academic disciplines...will edify everyone who reads it."
-Arkansas Democrat-Gazette

"A fascinating, beautifully illustrated and elegantly written account of the life and times of Jesus."
-Publishers Weekly

"An original, nuanced synthesis of archaeological finds and textual exegesis, one that is rich in insights and in provocative interpretations."
-Michael Coogan, Professor of Religious Studies, Stonehill College, editor, The New Oxford History of the Biblical World

"This is a fascinating and exhilarating study, which breathes new life into the quest for the historical Jesus."
-Karen Armstrong, author of A History of God

"First-century Palestine comes alive here...another winner for Crossan."
-Booklist

"An original, nuanced synthesis of archaeological finds and textual exegesis, one that is rich in insights and in provocative interpretations."
-Michael Coogan, Professor of Religious Studies, Stonehill College, editor, The New Oxford History of the Biblical World

"Comprehensive, expertly integrated, and powerfully illuminating...in keeping with the best of current archaeological theory and method."
-William G. Deever, Professor of Near Eastern Archaeology and Anthropology, University of Arizona
or
Not Currently Available for Direct Purchase