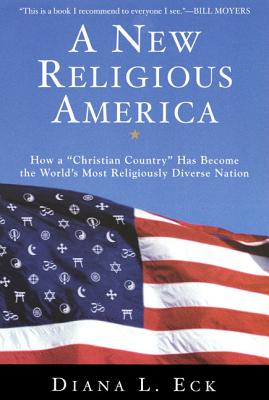 A New Religious America (Paperback)
How a "Christian Country" Has Become the World's Most Religiously Diverse Nation
HarperOne, 9780060621599, 432pp.
Publication Date: May 28, 2002
* Individual store prices may vary.
Description
Why Understanding America's Religious Landscape Is the Most Important Challenge Facing Us Today
The 1990s saw the U.S. Navy commission its first Muslim chaplain and open its first mosque.
There are presently more than three hundred temples in Los Angeles, home to the greatest variety of Buddhists in the world.
There are more American Muslims than there are American Episcopalians, Jews, or Presbyterians.
About the Author
Diana L. Eck is Professor of Comparative Religion and Indian Studies at Harvard University and is Master of Lowell House and Director of The Pluralism Project. As a Christian, she has also been involved in the United Methodist Church, the World Council of Churches, and the life of Harvard Divinity School. Her book Encountering God: A Spiritual Journey from Bozeman to Banaras won the prestigious Grawemeyer Book Award. In 1998, President Clinton awarded her the National Humanities Medal for the work of The Pluralism Project in the investigation of America's religious diversity.
Praise For A New Religious America: How a "Christian Country" Has Become the World's Most Religiously Diverse Nation…
"[An] intelligent introduction to religious life outside American churches and synagogues."
— Wall Street Journal

"Vivid writing…Diana Eck shows the way toward this nation's future."
— James Carroll, author of Constantine's Sword

"A thought-provoking analysis of trends that will shape the United States for years to come."
— Religious News Service

"This excellent overview of America's exploding religious diversity doubles as an impassioned call to action."
— Booklist

"A stunning tour de force that may forever change the way Americans claim to be 'one nation, under God.'"
— Publishers Weekly (*Starred Review*)

"There cannot be a wiser or more authoritative guide...rich, exciting, and illuminating."
— Karen Armstrong, author of A History of God

"A highly readable book...Diana Eck is an immensely well informed guide."
— Harvey Cox, author of Fire from Heaven

"Diana Eck is the country's best guide to America's new pluralism."
— Alan Wolfe, Boisi Center for Religion and Public Life, Boston College, author of One Nation, After All

"A thoroughly researched and lovingly written ethnography that tells us just what the subtitle promises."
— Lauren Winner, Publishers Weekly

"This is a book I recommend to everyone I see.
— Bill Moyers

"This is more than a stuffy study. It's an ambitious survey that celebrates the country's growing religious diversity."
— Steve Rabey, Religion News Service

"A New Religious America challenges all Americans to embrace the astonishing religious diversity that now animates the nation."
— Los Angeles Times

"This picture of religious pluralism is...highly recommended."
— Choice