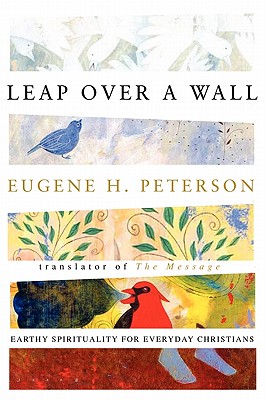 Leap Over a Wall (Paperback)
HarperOne, 9780060665227, 256pp.
Publication Date: June 28, 2011
Description
Leap Over a Wall is Eugene H. Peterson's vibrant, insightful, and heartfelt exploration of one of the Bible's most controversial figures: King David. Peterson beautifully elucidates the Old Testament's rich depictions of David's failures and victories, recapturing their excitement and immediacy to reveal David himself as a crucially human example of how we relate to God. A vision brought to life by one of the world's most respected and influential theologians, the author of The Pastor, The Jesus Way, Practice Resurrection, and The Message--a bestselling contemporary translation of the Bible--Leap Over a Wall is a unique opportunity to reconnect with David, a man simultaneously admirable, soulful, and dark, and one of the most complex and vital characters of the greatest story ever written.
Praise For Leap Over a Wall…
"Eugene H. Peterson skillfully uses the David story to talk not about David, but about you and me. Leap Over A Wall is the human story in all its wonder and terror and pity."
-Richard J. Foster, author of Celebration of Discipline

"Leap Over A Wall brings King David's life so close to us, each event a devotional experience, each application an experience that walks us step by step to David's God and ours."
-Walter Wangerin Jr., author of Reliving the Passion

"The author brings the Old Testament world revealingly close to our own century, and he makes vivid the notion that God's purposes are worked out in the ordinariness of specific human lives."
-Publishers Weekly

"This retelling and reflection on the life of David, the most completely portrayed character in the Bible . . . depicts an epic figure with the foibles of modern men and women. . . . This everyman analysis brings new life to the stories."
-Washington Post
Advertisement