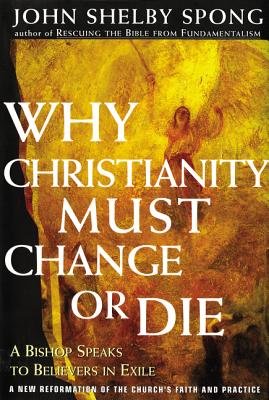 Why Christianity Must Change or Die
A Bishop Speaks to Believers In Exile
Paperback

* Individual store prices may vary.
Description
An important and respected voice for liberal American Christianity for the past twenty years, Bishop John Shelby Spong integrates his often controversial stands on the Bible, Jesus, theism, and morality into an intelligible creed that speaks to today's thinking Christian. In this compelling and heartfelt book, he sounds a rousing call for a Christianity based on critical thought rather than blind faith, on love rather than judgment, and that focuses on life more than religion.
HarperOne, 9780060675363, 288pp.
Publication Date: April 21, 1999
About the Author
John Shelby Spong, the Episcopal Bishop of Newark before his retirement in 2000, has been a visiting lecturer at Harvard and at more than 500 other universities all over the world. His books, which have sold well over a million copies, include Biblical Literalism: A Gentile Heresy; The Fourth Gospel: Tales of a Jewish Mystic; Re-Claiming the Bible for a Non-Religious World; Eternal Life: A New Vision; Jesus for the Non-Religious, The Sins of Scripture, Resurrection: Myth or Reality?; Why Christianity Must Change or Die; and his autobiography, Here I Stand. He writes a weekly column on the web that reaches thousands of people all over the world. To join his online audience, go to www.JohnShelbySpong.com. He lives with his wife, Christine, in New Jersey.