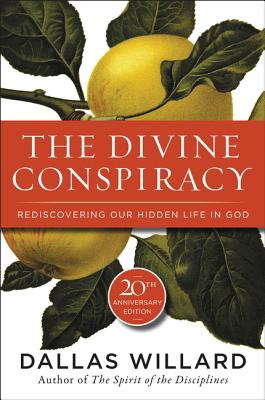 The Divine Conspiracy (Paperback)
Rediscovering Our Hidden Life In God
HarperOne, 9780060693329, 448pp.
Publication Date: February 27, 2018
Other Editions of This Title:
Digital Audiobook (2/5/2007)
Digital Audiobook (10/17/2005)
Hardcover (3/24/1998)
CD-Audio (2/6/2007)
MP3 CD (4/1/2007)
Compact Disc (2/28/2007)
* Individual store prices may vary.
About the Author
Dallas Willard was a professor at the University of Southern California's School of Philosophy until his death in 2013. His groundbreaking books The Divine Conspiracy, The Great Omission, Knowing Christ Today, Hearing God, The Spirit of the Disciplines, Renovation of the Heart, and The Divine Conspiracy Continued forever changed the way thousands of Christians experience their faith.
Praise For The Divine Conspiracy: Rediscovering Our Hidden Life In God…
"Willard is a master at capturing the central insight of Jesus' teachings. . . . Rarely have I found an author with so penetrating an intellect combined with so generous a spirit."
— from the Foreword by Richard Foster, author of Celebration of Discipline

"This book belongs in the tradition of the great devotional classics . . . The comprehensiveness of his study, its accessibility, its fervor, its freshness of phrasing, and its command of Scripture should prompt Christians to give this book serious attention."
— Christian Century

"With The Divine Conspiracy, Willard joins the line of a Kempis, Luther, Fenelon, Brother Lawrence, Zinzendorf, Wesley, and other master apprentices of Jesus . . . What distinguishes The Divine Conspiracy is an extraordinary combination of simplicity and depth . . . If you read only one book, make it this one."
— Christianity Today

"I consider The Divine Conspiracy to be the most important book in the field of Christian spirituality written in my lifetime."
— Richard J. Foster, author of Celebration of Discipline

"All of Dallas Willard's books merit careful attention, but this goes to the heart of the matter. To be a disciple is to be a disciple of Jesus, living in his presence to learn from and become like him. Just as the disciples did in the Gospels."
— Christianity Magazine

"A Christian classic that deserves to be mentioned in the same breath with Augustine's Confessions and Brother Lawrence's Practicing the Presence of God."
— JP Moreland, author of Love Your God with All Your Mind

"Passionate insights . . . thoroughly argued."
— Library Journal

"The Divine Conspiracy shaped an entire generation."
— Scot McKnight, author of The Blue Parakeet