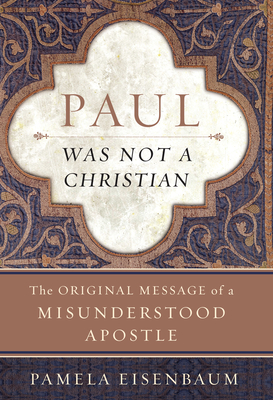 Paul Was Not a Christian: The Original Message of a Misunderstood Apostle (Hardcover)
The Original Message of a Misunderstood Apostle
HarperOne, 9780060722913, 318pp.
Publication Date: September 8, 2009
* Individual store prices may vary.
or
Not Currently Available for Direct Purchase
Description
Paul Was Not a Christian is a groundbreaking work that systematically overturns both scholarly and popular conceptions held by Christians and Jews, liberals and conservatives alike. As Eisenbaum reveals, Paul is not the true founder of Christianity as is often claimed, nor does Paul understand Jesus Christ as having superseded the Torah and thereby replacing Judaism with Christianity. Although Paul unabashedly proclaimed his faith in Jesus, such proclamations were not inherently "Christian," since no such religious category existed in Paul's time. Jesus, rather, represented the fulfillment of God's promise to Abraham that he would be a blessing to the nations.
Eisenbaum's work reverses the image we have of Paul as a model for Christian conversion and greatly increases our understanding of both Judaism and Christianity. Provocatively argued and far-reaching in its implications, Paul Was Not a Christian is a much-needed corrective to the traditional portrait of Paul and his divisive legacy.
Praise For Paul Was Not a Christian: The Original Message of a Misunderstood Apostle…
Eisenbaum shows the implausibility of the common interpretation of Paul that pits a Christian essence against a superficial or rejected Jewish hull. The book's great accomplishment is to show us a historically plausible picture of a fully Jewish Paul who was also fully committed to Christ.
-Dr. Stanley Stowers, Chair of Religious Studies, Brown University, and author of A Rereading of Romans: Justice, Jews and Gentiles

Eisenbaum's is one of a few important voices drawing our attention . . . to the continuing tensions and contradictions in Christian readings of Paul . . . This book does more than challenge and inform: it changes the way we think about Paul [and] the origins of Christian faith.
-Neil Elliott, Author of Liberating Paul: The Justice of God and the Politics of the Apostle

Pamela Eisenbaum's Paul Was Not a Christian is a clear and effective presentation and extension of the view. . . that Paul remained fully identified with Judaism and the Torah throughout his life. . . It will repay careful reading by interested layfolk and by scholars as well.
-Dr. Daniel Boyarin, Jewish Theological Seminary, UC Berkeley

"Paul was not a Christian is well worth careful reading. It is a serious and very clear exposition of what changed and what stayed the same in Paul's religious life. This book is very highly recommended to both scholars and laypersons as all will gain from it."
-Alan F. Segal, Professor of Religion and Jewish Studies Barnard College, Columbia University, Author of Paul the Convert

"In this provocative book, biblical scholar Eisenbaum points out that the traditional Christian portrait of Paul as a former Jew . . . is a misreading of Paul's life and religious work . . . Eisenbaum's lively prose and meticulous scholarship provides a compelling new portrait of the apostle. "
-Publishers Weekly

"Professor Eisenbaum offers the general reader the most realistic first-century portrayal of the Apostle Paul ever written."
-Jewish Book World

"According to traditional teachings, Paul rejected his Judaism for the new, improved version: Christianity. Bible scholar Pamela Eisenbaum says this interpretation of Paul is not only wrong, it's dangerous."
-Interfaith Voices
Advertisement