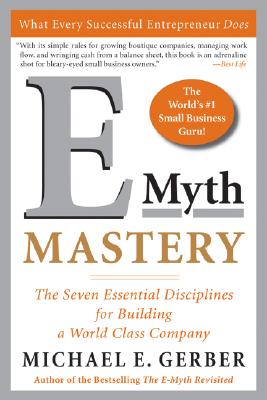 E-Myth Mastery
The Seven Essential Disciplines for Building a World-Class Company
Paperback

* Individual store prices may vary.
Other Editions of This Title:
Digital Audiobook (3/28/2005)
CD-Audio, Abridged (12/28/2004)
Hardcover (12/28/2004)
Description
The bestselling author of phenomenally successful and continually vital The E-Myth Revisited presents the next big step in entrepreneurial management and leadership with E-Myth Mastery.
A practical, real-world program that is implemented real-time into your business, Gerber begins by engaging the reader in understanding why the entrepreneur is so critical to the success of any enterprise, no matter how small or large it may be, and why the mindset of an entrepreneur is so integral to the operating reality of the organization, of the small business, and the enterprise. He then covers seven essential skills:
Leadership
Marketing
Money
Management
Lead Conversion
Lead Generation
Client Fulfilment
Each of these seven skills is presented through a specific training module with corresponding tests and exercises that explain the content and principles to be learned, provide case studies and examples, as well as worksheets for applying those ideas to the business. Gerber ties it all together by helping readers put the pieces together in an E-Myth Business, an E-Myth Practice and an E-Myth Enterprise.
This is the book that will show you the difference between being an entrepreneur versus doing a job, how to get money when the bank won't give it to you, how to expand your customer base when big business moves in down the street, how to develop the best people when you can't afford to pay them competitive wages, how to increase the predictability of what your business is able to promise, and then how to keep that promise, every single time, no matter where you are or what you're doing.
Mastery is a business development program that helps you turn your company into a world-class operation...into a turn-key money machine!
Praise For E-Myth Mastery: The Seven Essential Disciplines for Building a World-Class Company…
"Gerber loves to exhort people to develop powerful visions for their companies."
— Fortune

"The power of the E-Myth will transform your business and your life."
— Allan D. Koltin, CPA, President and CEO, Practice Development Institute

"The power of the E-Myth will transform your business and your life."
— The John Hancock Insurance Group

"Gerber's powerful insights have given thousands of entrepreneurs new control over their businesses."
— Success

"Here is, if not the only source of good advice, at least an important source."
— Booklist
Harper Business, 9780060723231, 464pp.
Publication Date: February 20, 2007
About the Author
Michael E. Gerber is a true legend of entrepreneurship. The editors of INC magazine called him "The World's #1 Small Business Guru." He is Co-founder and Chairman of the Michael E. Gerber Companies—a group of highly unique enterprises dedicated to creating world-class start-ups and entrepreneurs in every industry and economy. The Gerber Companies transforms the way small business owners grow their enterprises and has evolved into an empire over its history of nearly three decades.