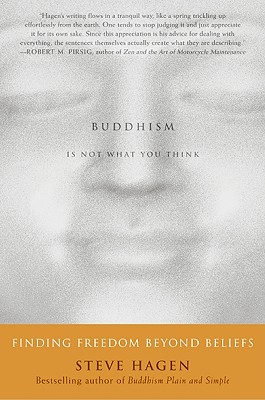 Buddhism Is Not What You Think: Finding Freedom Beyond Beliefs (Paperback)
Finding Freedom Beyond Beliefs
HarperOne, 9780060730574, 272pp.
Publication Date: September 29, 2009
Description
" Hagan's] book will appeal to readers interested in what true Zen practice is supposed to be about beyond all the popular images and colorful stories."--Robert M. Pirsig, New York Times bestselling author of Zen and the Art of Motorcycle Maintenance Buddhism is Not What You Think is a clear, direct, and engaging guide to the most essential elements of spiritual inquiry: attention, intention, honesty with oneself, compassion, and the desire to awaken. A renowned Zen teacher, Steve Hagen offers a valuable hands-on guidebook in which examples from everyday life are presented alongside stories from Buddhist teachers past and present to banish misconceptions and inspire the newcomer and the knowledgeable practitioner alike. Buddhism is Not What You Think--it is both more...and less.
Praise For Buddhism Is Not What You Think: Finding Freedom Beyond Beliefs…
"This is not just another nice book about Buddhism, one telling us what we like to hear and are used to hearing. No--it is a clear and challenging showing of the fundamental truth of our lives. This is an exceptional book. Make good use of it."
-Charlotte Joko Beck author of Everyday Zen

"Hagen (Buddhism Plain and Simple) here presents 43 short chapters dealing with various aspects of Buddhist practice in a way that cuts to the heart of the matter. Hagen reminds us that whenever we're grasping, aspiring, analyzing, judging, or in any way adding to the simple experience of the present moment, we are missing the point. The book will appeal to readers interested in what true Zen practice is supposed to be about beyond all the popular images and colorful stories. For practitioners it is also a book that will reward multiple readings over time."
-Robert M. Pirsig, author of Zen and the Art of Motorcycle Maintenance
Advertisement