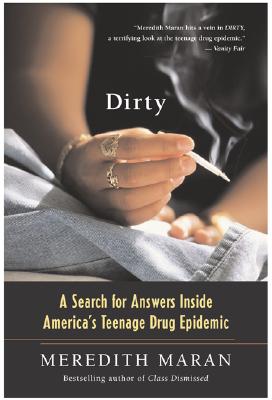 Dirty
A Search for Answers Inside America's Teenage Drug Epidemic
Paperback

* Individual store prices may vary.
Description
Venturing into uncharted territory, mother and award-winning journalist Meredith Maran takes us inside teenagers' hearts, minds, and central nervous systems to explore the causes and consequences of our nation's drug crisis. In these pages we get to know the kids, the parents, the therapists, and the drug treatment programs at their best and worst. We're face-to-face with seventeen-year-old Mike, whose life revolves around selling, smoking, and snorting speed; fifteen-year-old Tristan -- the boy next door -- who can't get enough pot, pills, or vodka; and sixteen-year-old Zalika, a runaway, crack dealer, and prostitute since the age of twelve. Combining powerful on-the-street reporting and groundbreaking research, Dirty is essential reading for every parent and professional who works with or cares about children or teenagers.
Praise For Dirty: A Search for Answers Inside America's Teenage Drug Epidemic…
"Meredith Maran makes us fall in love with the teenagers she writes about."
— Anne Lamott, author of Traveling Mercies

"This book has the potential to transform the cultural landscape of America."
— Dr. Mary Pipher, bestselling author of Reviving Ophelia

"An accurate and realistic portrayal of teen-age drug use. Parents should read this book. Kids should read this book."
— James Frey, bestselling author of A Million Little Pieces

"Dirty's news is as necessary as it is devastating, all the while staying close to the complicated heart."
— Adrian Nicole LeBlanc, bestselling author of Random Family

"An insightful, compassionate look at the mistakes we are making with our teenagers."
— Publishers Weekly

"Eye-opening and compassionately delivered... Maran's storytelling is colorful and compelling, a sympathetic evocation of ecstasy, heartbreak, horror and hope."
— Psychology Today

"Meredith Maran hits a vein in DIRTY, a terrifying look at the teenage drug epidemic."
— Vanity Fair
HarperOne, 9780060730611, 320pp.
Publication Date: August 31, 2004
About the Author
Meredith Maran is the author of several books of nonfiction, including the bestsellers What It's Like to Live Now, Ben & Jerry's Double Dip, and Class Dismissed. She writes regularly for such publications as Self, Parenting, Utne Reader, Tikkun, Bride's, Mother Jones, Teacher, The San Francisco Chronicle, and The San Jose Mercury News.