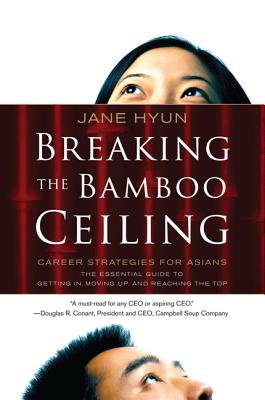 Breaking the Bamboo Ceiling
Career Strategies for Asians
Paperback

* Individual store prices may vary.
Other Editions of This Title:
Hardcover (5/3/2005)
Description
The popular media often portrays Asian Americans as highly educatedand successful individuals—the "Model Minority."
As the ethnic minority with the largest percentage of college graduates, many Asian Americans do enter the professional workforce. However, many of them seem to stall in their careers and never make it to the corner offices.
Leading executive coach Jane Hyun explores how traditional Asian values can be at odds with Western corporate culture. By using anecdotes, case studies, and exercises, Hyun offers practical solutions for resolving misunderstandings and overcoming challenges in an increasingly multicultural workplace. This timely book explains how companies will benefit from discovering and supporting the talents of their Asian employees and shows Asians how to leverage their strengths to break through the bamboo ceiling.
Praise For Breaking the Bamboo Ceiling: Career Strategies for Asians…
"A well-written, easy to read and thorough compendium for every Asian who wants to move up the ladder."
— Susan RoAne, the nation's undisputed networking expert, keynote speaker and author of How To Create Your Own Luck and How To Work a Room

"[This] is the book Asian Americans in the workplace have needed for decades."
— Paul Tokunaga, author of Invitation to Lead: Guidance for Emerging Asian American Leaders

Hyun's help is multiple... Enlightening—and very necessary.
— Booklist

"A useful guide for anyone seeking advice on how to get ahead in business."
— Kirkus Reviews

"An important book for anyone hoping the make that career move…and realize his full professional potential."
— Korea Times

"Should be required reading for both Asian and non-Asian readers."
— Dennis Ling, Senior Vice President, Global Finance and Treasurer, Avon Products, Inc.

"Jane shows how cultural values can adversely impact workplace behavior, and provides tips for overcoming those differences."
— Kate Wendleton, President, The Five O'Clock Club, a national career coaching and outplacement organization, and author of Targeting a Great Career, among other books

"This much-needed work ... will be hugely valuable to anyone who's interested in achieving cultural fluency in the workplace."
— Patrice A. Hall, Managing Director and Head of Diversity, JPMorganChase

"Jane Hyun confronts the dilemma of how to be an Asian in America...a truly valuable and insightful resource."
— J.D. Hokoyama, President and CEO, Leadership Education for Asian Pacifics (LEAP)

"Powerful ... Hyun presents valuable strategic and tactical next steps that Asian professionals can implement to advance their careers."
— Philip Berry, Vice President, Global Workplace Initiatives, Colgate-Palmolive

"A clear, straightforward guide to easing cultural barriers between Asian Americans and their non-Asian counterparts."
— Luke Visconti, Partner/Cofounder, DiversityInc.

"Knowing yourself and the values that you hold are integral steps to developing leadership competencies... A must read ."
— Jim Loehr, Principal, LGE Performance Systems, author of Power of Full Engagement, and creator of the Corporate Athlete Training System

"Provocative, thoughtful, and engaging ... offers insights and strategies for all persons of Asian descent striving for career advancement and success."
— Diane Yu, Chief of Staff and Deputy to the President, New York University

"I strongly recommend this book to anyone who is committed to diversity and inclusion."
— Dr. Johnnetta Cole, President, Bennett College for Women

"Read this book and find out how best to manage your career in today's multicultural workplace."
— Kyung H. Yoon, Vice Chair, Heidrick and Struggles

"(Empowers) individuals to take charge of their careers and gives them the tools to navigate the corporate structure."
— David Chu, Founder and former President and CEO, Nautica, Inc.

"(Gives) a set of maps to define, measure and envision professional lives... Hyun reveals truths that often remain unspoken."
— Phoebe Eng, Creative Director, The Opportunity Agenda and author, Warrior Lessons: An Asian American Woman's Journey into Power

"Inspiring and engaging! Every Asian professional and student, (and) anyone who works with them, should read this book."
— Jino Ahn, President and Founder, Asian Diversity, Inc.

"Finally! A book that addresses the truth and shatters so many myths and misconceptions about Asian Americans in the workplace."
— Vincent Yee, National President, NAAAP (National Association of Asian American Professionals)

"Addresses an issue that most of corporate America and diversity experts have been silent about... [an] important work."
— Professor David Thomas, Harvard Business School and Author of Breaking Through: The Making of Minority Executives in Corporate America

"Practical, personable and strategic, Jane Hyun is the workplace mentor every Asian American would like to have."
— Eric Liu, Author of Guiding Lights and The Accidental Asian

"Read it, and find clarity about who you are and what you want to become."
— Eric Liu, Author of Guiding Lights and The Accidental Asian

"Filling a void where generic career guides leave off, this is a crucial handbook for anyone in today's multicultural workplace."
— Asian Fortune

"[Shows] where the gaps between the Asian American and business perspectives are, and how we can bridge these differences."
— Jade magazine
Harper Business, 9780060731229, 352pp.
Publication Date: April 11, 2006
About the Author
Jane Hyun is an internationally renowned executive coach and global leadership adviser to Fortune 500 companies, business schools, and nonprofit organizations. She speaks frequently on the topics of authenticity, culture, and leadership. A graduate of Cornell University with a degree in economics, she is the author of Breaking the Bamboo Ceiling. She lives in New York City.