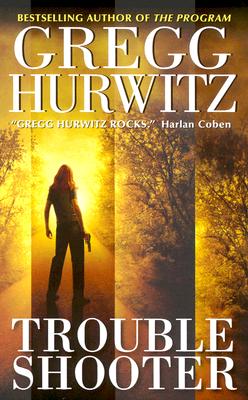 Troubleshooter
Mass Market

* Individual store prices may vary.
Other Editions of This Title:
MP3 CD (10/1/2005)
Description
The series that started it all!
The maestro of pulse-pounding suspense delivers an explosive new white-knuckle thriller featuring deputy U.S. Marshal Tim Rackley -- a lawman driven by honor, morality, and a thirst for justice. The leader of one of the country's most violent biker gangs, Den Laurey should have been behind bars. But thanks to a daring escape on an L.A. freeway, several deputy marshals are dead and Laurey is riding free. Rackley, back on the Service's warrant squad, is in hot pursuit of the outlaw and his ruthless gang -- with a media whirlwind and the entire Los Angeles law-enforcement community driving him.
Just when Laurey is within his grasp, circumstances force Rackley to let him go -- with devastating results. A few miles up the road, a sheriff's deputy is attacked: Tim's pregnant wife, Dray. Driven by guilt, Tim vows to hunt Laurey down -- a search that will lead him into a dark world of deception and lies, a world of criminals and undercover cops, drugs and mutilation. And the key to the violent puzzle lies in the discarded corpses of women -- women for whom Tim must seek justice when no one else will. With the stakes rising, Tim must unravel a horrifying secret and confront a deadly terror that reaches from the back alleys of Mexico to the poppy fields of Afghanistan ... and threatens to explode on the dark streets of L.A.
Praise For Troubleshooter…
"Hurwitz has been tapped as a younger, hipper Grisham…he certainly delivers in terms of pure, propulsive readability." — Washington Post
"Hurwitz again shows that he is a remarkable crime fiction writer, a solid member of the genre's top echelon" — Mystery News
"Grounded in character and believable detail, Hurwitz's thriller engages on every level." — Publishers Weekly
"Fascinating…intriguing…Filled with well-drawn characters, meticulous research and pulse-pounding action…easily one of the best thrillers of the year." — Chicago Sun-Times
"Extraordinarily satisfying...A gripping read from start to finish." — Booklist
"A cut above the usual thriller, with a cast of intriguing and complex characters who never fall into stereotype." — Capital Times
"Tough, true, well–written, and memorable as Hell. Dray and Tim Rackley are uniquely believable and sympathetic heroes." — James Patterson
"Gregg Hurwitz handcuffs you to his story and holds your emotions hostage. Once you enter THE PROGRAM, there's no leaving." — Ridley Pearson
"A white–knuckle journey…A compelling, riveting, dead–smart thriller…If you haven't discovered Gregg Hurwitz yet, get to a bookstore!" — Janet Evanovich
"A rip–roaring thrill ride… A stick to your fingers read by a novelist at the top of his game." — Stephen J. Cannell
"THE KILL CLAUSE is like a literary Law & Order, without the commercials. Bottom Line: Killer read." — People
"THE KILL CLAUSE is a white knuckle thriller of the first order. Smart, with a little twist of the wicked." — Joe R. Lansdale, author of The Bottoms and A Fine Dark Line
"Likable and sympathetic…Hurwitz' hero is fully realized…A shadowy operative named Ed Pinkerton is the most intriguing character in the book." — Washington Post
"In this adeptly researched, well–constructed tale about science gone awry…The action comes fast and steady." — Publishers Weekly
"Hurwitz is a brilliant storyteller…He has written a fast–paced plot with nicely defined characters." — Library Journal
"Enticing…a smoothly written, gripping fabric of believable incidents, ethical questions and changing relationships." — Booklist
"Engaging…Spier is an appealing character…Gregg Andrew Hurwitz can write. He has a bright future ahead of him." — Cozies, Capers & Crimes
"Compelling…Gregg Hurwitz is the heir apparent to Robin Cook." — Book Browser
"…the perfect blend of suspense, pacing, strong storyline, compelling characters, and a villain who will knock your socks off." — Sue Grafton
"…a terrifying and savage descent into the darkest corners of evil and madness." — Jonathan Kellerman
"…a spooky, surprising and unsettling thriller. Good character, a suspenseful plot and a shock of an ending." — T. Jefferson Parker
"…a gripping page–turner…that sticks in mind long after the last page is turned." — Michael Connelly
HarperTorch, 9780060731458, 400pp.
Publication Date: July 25, 2006
About the Author
Gregg Hurwitz is the critically acclaimed author of The Tower, Minutes to Burn, Do No Harm, The Kill Clause, The Program, and Troubleshooter. He holds a B.A. in English and psychology from Harvard University and a master's degree from Trinity College, Oxford University. He lives in Los Angeles.