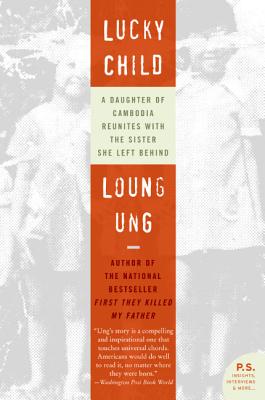 Lucky Child
A Daughter of Cambodia Reunites with the Sister She Left Behind
Paperback

* Individual store prices may vary.
Other Editions of This Title:
Prebound (4/11/2006)
Description
After enduring years of hunger, deprivation, and devastating loss at the hands of the Khmer Rouge, ten-year-old Loung Ung became the "lucky child," the sibling chosen to accompany her eldest brother to America while her one surviving sister and two brothers remained behind. In this poignant and elegiac memoir, Loung recalls her assimilation into an unfamiliar new culture while struggling to overcome dogged memories of violence and the deep scars of war. In alternating chapters, she gives voice to Chou, the beloved older sister whose life in war-torn Cambodia so easily could have been hers. Highlighting the harsh realities of chance and circumstance in times of war as well as in times of peace, Lucky Child is ultimately a testament to the resilience of the human spirit and to the salvaging strength of family bonds.
Praise For Lucky Child: A Daughter of Cambodia Reunites with the Sister She Left Behind…
"Ung's story is a compelling and inspirational one that touches universal chords. Americans would do well to read it."
— Washington Post Book World

"Written with an engaging vigor and directness, Lucky Child is an unforgettable portrait of resilience and largeness of spirit."
— Los Angeles Times

"Deeply stirring...heart-breaking and not less than brilliant."
— Miami Herald

"[Ung] captured my heart...Lucky Child is captivating, deep and delightful."
— Chicago Tribune

"At once elegiac and clear-eyed, this moving volume is a tribute to the path not taken."
— Vogue

"Heart-rending and eloquent . . . a moving reminder of human resiliency and the power of family bonds."
— Newsweek

"[A] fiercely honest and affecting memoir."
— Seattle Times

"Remarkable...Lucky Child is part adventure, part history and, in large part, a love story about family."
— Cleveland Plain Dealer

"Vivid prose…Ung imparts freshness to a fairly familiar immigrant's tale…a moving story of transition, transformation, and reunion."
— Kirkus Reviews

"Highly readable."
— Minneapolis Star Tribune

"A rich narrative that explores the ravages of war and the strength of family bonds...powerful and moving."
— Amnesty International

"Ung is a masterful storyteller whose fresh clear prose shimmers with light and sorrow."
— Mary Pipher, Ph.D., author of Reviving Ophelia

"A unique glimpse into America's "melting pot"--a melting pot born of indescribable suffering but brimming with irrepressible life."
— Samantha Power, author of "A Problem from Hell": America and the Age of Genocide

"As piercing and poignant as its title."
— Richard North Patterson

"I encourage everyone to read this deeply moving and very important book."
— Angelina Jolie, Goodwill Ambassador for the United Nations High Commission for Refugees

"A tender, searing journey of two sisters, two worlds, two destinies."
— Eve Ensler, author of The Vagina Monologues
Harper Perennial, 9780060733957, 320pp.
Publication Date: April 11, 2006
About the Author
Loung Ung was the National Spokesperson for the "Campaign for a Landmine Free World," a program of the Vietnam Veterans of America Foundation, which was awarded the Nobel Peace Prize for co-founding the International Campaign to Ban Landmines. Ung lectures extensively, appears regularly in the media, and has made more than thirty trips back to Cambodia. She is also the author of Lucky Child: A Daughter of Cambodia Reunites with the Sister She Left Behind and LuLu in the Sky.