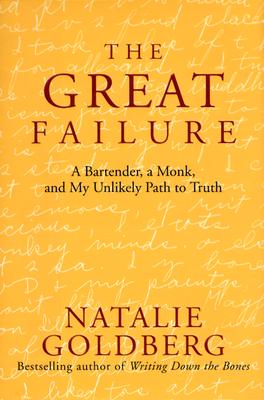 The Great Failure
A Bartender, a Monk, and My Unlikely Path to Truth
Hardcover

* Individual store prices may vary.
Other Editions of This Title:
Paperback (10/4/2005)
CD-Audio (9/1/2004)
Description
What was I doing standing up in front of everyone anyway? ... They had signed up for this lovely New Age weekend down in Florida -- what was going on with this Natalie Goldberg? I knew only a handful had read any of my books. How was I going to leap over this mess smoothly and talk about writing practice, where I was on solid ground? I mentioned the horses from the seminar title -- ahh, relief on their faces -- they had come to the correct lecture hall after all.
Then everything dropped away. I had nothing to say.
---
So begins the journey by one of America's favorite writing teachers. Natalie Goldberg has inspired millions to write to develop an intimate relationship with their minds and a greater understanding of the world in which they live. Now, through this honest exploration of her own life, Goldberg puts her teachings to work.
In this wry, nimble memoir, Natalie Goldberg candidly depicts her father, Ben, an old-fashioned man's man who knew no boundaries -- a trait that was at once his greatest strength and most profound weakness. In capturing the essence of this larger-than-life Jewish bartender, she reveals the intricacies of a precarious father-daughter relationship. The tenuous bond with her father leads her in many directions and ultimately to Dainin Katagiri Roshi, a dynamic, celebrated Zen master. In light of an eye-opening discovery that shakes her ideal of this beloved teacher, Goldberg revisits her many years of loyal practice under Roshi's guidance.
Elegantly weaving these tales together, this story is finally a search for truth when there are no easy answers. Filled with Goldberg's trademark gifts for both humor and teaching, The Great Failure touches our hearts and minds as we come to recognize the ways in which we fail to confront our illusions.
HarperOne, 9780060733995, 192pp.
Publication Date: September 1, 2004
or
Not Currently Available for Direct Purchase