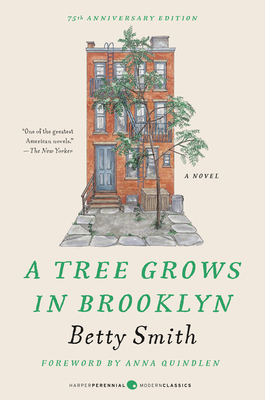 A Tree Grows in Brooklyn [75th Anniversary Ed]
Paperback

* Individual store prices may vary.
Other Editions of This Title:
Digital Audiobook (7/30/2005)
Paperback (5/30/2006)
Hardcover (11/13/2001)
Paperback, Large Print (1/18/2005)
Prebound (2/1/2005)
Prebound (2/1/2005)
Paperback, Chinese (12/11/2019)
Paperback (9/1/1998)
Description
A PBS Great American Read Top 100 Pick
A special 75th anniversary edition of the beloved American classic about a young girl's coming-of-age at the turn of the twentieth century.
From the moment she entered the world, Francie Nolan needed to be made of stern stuff, for growing up in the Williamsburg slums of Brooklyn, New York demanded fortitude, precocity, and strength of spirit. Often scorned by neighbors for her family's erratic and eccentric behavior—such as her father Johnny's taste for alcohol and Aunt Sissy's habit of marrying serially without the formality of divorce—no one, least of all Francie, could say that the Nolans' life lacked drama. By turns overwhelming, heartbreaking, and uplifting, the Nolans' daily experiences are raw with honestly and tenderly threaded with family connectedness. Betty Smith has, in the pages of A Tree Grows in Brooklyn, captured the joys of humble Williamsburg life—from "junk day" on Saturdays, when the children traded their weekly take for pennies, to the special excitement of holidays, bringing cause for celebration and revelry. Smith has created a work of literary art that brilliantly captures a unique time and place as well as deeply resonant moments of universal experience. Here is an American classic that "cuts right to the heart of life," hails the New York Times. "If you miss A Tree Grows in Brooklyn, you will deny yourself a rich experience."
Praise For A Tree Grows in Brooklyn [75th Anniversary Ed]…
"A poignant and deeply understanding story of childhood and family relationships....[Smith's] book has light and air in it, comedy and pathos, and an underlying rhythm pulsing to the surge and flow of humanity itself. No matter what happens to the Nolans, they never lose their awareness of the sweetness and wonder of life." — Orville Prescott, New York Times
"Betty Smith was a born storyteller." — USA Today
"One of the books of the century." — New York Public Library
"A profoundly moving novel, and an honest and true one. It cuts right to the heart of life. . . . If you miss A Tree Grows in Brooklyn you will deny yourself a rich experience." — New York Times
"A Tree Grows in Brooklyn deserves to be thought of as one of the greatest American novels." — The New Yorker
"One of the most cherished of American novels….It is the Dickensian novel of New York that we didn't think we had." — New York Times
Harper Perennial Modern Classics, 9780060736262, 528pp.
Publication Date: November 6, 2018
About the Author
Betty Smith (1896–1972) was a native of Brooklyn, New York. Her novels A Tree Grows in Brooklyn, Tomorrow Will Be Better, Joy in the Morning, and Maggie-Now continue to capture the hearts and imaginations of millions of readers worldwide.
1. In a particularly revealing chapter of A Tree Grows in Brooklyn, Francie's teacher dismisses her essays about everyday life among the poor as "sordid," and, indeed, many of the novel's characters seem to harbor a sense of shame about their poverty. But they also display a remarkable self-reliance (Katie, for example, says she would kill herself and her children before accepting charity). How and why have our society's perceptions of poverty changed—for better or worse—during the last one hundred years?
2. Some critics have argued that many of the characters in A Tree Grows in Brooklyn can be dismissed as stereotypes, exhibiting quaint characteristics or representing pat qualities of either nobility or degeneracy. Is this a fair criticism? Which characters are the most convincing? The least?
3. Francie observes more than once that women seem to hate other women ("they stuck together for only one thing: to trample on some other woman"), while men, even if they hate each other, stick together against the world. Is this an accurate appraisal of the way things are in the novel?
4. The women in the Nolan/Rommely clan exhibit most of the strength and, whenever humanly possible, control the family's destiny. In what ways does Francie continue this legacy?
5. What might Francie's obsession with order—from systematically reading the books in the library from A through Z, to trying every flavor ice cream soda—in turn say about her circumstances and her dreams?
6. Although it is written in the third person, there can be little argument that the narrative is largely from Francie's point of view. How would the book differ if it was told from Neeley's perspective?
7. How can modern readers reconcile the frequent anti-Semitism and anti-immigrant sentiments that characters espouse throughout the novel?
8. Could it be argued that the main character of the book is not Francie but, in fact, Brooklyn itself?