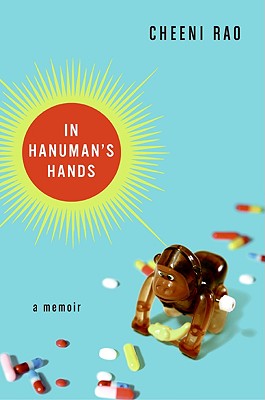 In Hanuman's Hands
A Memoir
Hardcover

* Individual store prices may vary.
Other Editions of This Title:
Paperback (5/1/2010)
Description
"I can do nothing more for you. You are now in Hanuman's hands." These are the words author Cheeni Rao hears his Indian immigrant mother sob as he stands locked outside his family home. A brilliant, promising young man who is the product of a devout Hindu family from a long line of Brahmin priests, Rao has been reduced to the life of a homeless drug addict and petty criminal on the back streets of Chicago's Southside.
The freedoms and temptations of life on an elite American college campus send Rao spiraling down into a hedonistic nightmare of drugs, sex, and crime. Desperate and alone, he is visited by Hanuman, the Hindu monkey god his mother evoked, and comes to realize that this unlikely guide may be his last resort. On his long journey to recovery, Rao is guided by visions of this clever, divine monkey, best known from the Indian epic poem, the Ramayana.
In Hanuman's Hands is a gritty, hauntingly beautiful memoir. Bringing India whole-heartedly into America, Rao weaves his own story of Western culture clash with mythic tales of his Hindu ancestors who served in the ancestral temples of Kali. With Hanuman as his loyal companion, the author finds his way back to recovery at a halfway house run by a mug named Tats and shared by an unforgettable gang of streetwise characters. In Hanuman's Hands is a striking debut from a new literary voice.
Praise For In Hanuman's Hands: A Memoir…
Writer tells of his spiral into drug addiction and how his 'visions' of the Hindu monkey god Hanuman helped him find the path to a cure.
— USA Today (Recommended Summer Books Issue)

A descendant of generations of Brahmin priests, Cheeni Rao chose a tragic path to enlightenment. His powerful memoir, "In Hanuman's Hands," describes in harrowing detail Rao's troubles with crack addiction and the spiritual awakening that led to his recovery.
— Washington Post

A drug-related memoir that contains any original material whatsoever will stand out, all the more so if eloquent, socially insightful, and laced with self-deprecating humor. Such is the case with In Hanuman's Hands, by Chicago native Cheeni Rao.
— Chicago Sun-Times

The son of a long line of Brahmin nobility finds a path to hell with drugs and sex. In Hanuman's Hands is a recovery story enriched by the culture Rao draws on for strength.
— New York Daily News

Here is a fine mind at work . . . It is a story about the pleasures and problems of love and loyalty, and making one's way in the world to and through difficult crossroads and milestones. In Hanuman's Hands is a fine piece of work.
— Larry Heinemann, National Book Award winner for Paco's Story

Lyrical, haunting, beguiling, In Hanuman's Hands goes a long way toward redeeming a dubious genre [recovery memoir].
— Wall Street Journal

There is so much here that I admire. This is the book I want to read.
— Lewis Robinson, author of Officer Friendly and Other Stories

I enjoyed this tremendously. This is an important, incredible story.
— John Murray, author of A Few Short Notes on Tropical Butterflies

I could go on all day about how impressed I am with this. I gave myself over as a reader and I was richly rewarded.
— Lan Samantha Chang, author of Hunger: A Novella and Stories

I really love this. I think it is absolutely breathtaking, and the scenes he depicts make everything come vibrantly off the page. I can't wait to see this in print.
— Amy Hassinger, author of Nina: Adolescence

Even readers who have become jaded to the generic conventions of the addiction memoir…will find themselves engrossed in Rao's spiritual journey, from the descent into a very personal hell to the slow climb back. Wherever his writing goes from here, this powerful debut is a signal to pay attention.
— Publisher's Weekly (starred review)

Rich material in this haunting debut.
— Library Journal

It is the rapture of [Rao's] language; his hallucinatory, world-bridging storytelling; and his high-wire variations on the timeless struggles between truth and deception, good and evil, that make this journey to hell and back all-consuming and profound.
— Booklist (starred review)

A deft combination of drug-addiction and spiritual-quest memoir. Unraveling through alleyways, crack houses and treatment centers, Rao's story provocatively blurs the lines between myth and reality.
— Kirkus Reviews

Just when you thought the memoir genre had been exhausted, here comes In Hanuman's Hands, an ingenious book by an exciting new writer.
— Creative Loafing

"A gripping new book by a hot young Indian-American writer."
— Read the Spirit

"A skillfully written memoir...entertaining and well-wrought."
— The Brooklyn Rail

In Hanuman's Hands beguiles.
— Wall Street Journal

What terrific writing! I would follow Cheeni anywhere.
— Elizabeth McCracken, author of The Giant's House, Here's Your Hat, What's Your Hurry, and Niagara Falls All Over Again

This was hard to stop reading. Life on the streets evokes a dream, and its integration with mythology, especially the connection between the old gods and getting high, shows rare skill.
— Stuart Dybeck, O. Henry award winner and recipient of the lifetime achievement award from the American Academy of Arts and letters. Author of The Coast of Chicago, Childhood and Other Neighborhoods, and The Baby Can Sing.

This is rich material. A story that reveals that nothing can be fully understood because everyone has their own motivations, and these in turn interfere with and obscure the motivations of others.
— ZZ Packer, author of Drinking Coffee Elsewhere

"As beautifully written as it is often viscerally unsettling."
— Philip Lutgendorf,Professor of Hindi and Modern Indian Studies, University of Iowa

[A] harrowing, skillfully written account of a young man's descent into drug addiction, crime, and homelessness and the difficult, uncertain path toward recovery.
— Boston Sunday Globe
HarperOne, 9780060736620, 416pp.
Publication Date: April 21, 2009
or
Not Currently Available for Direct Purchase