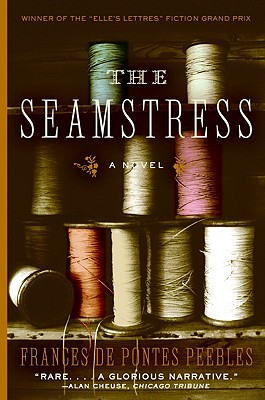 The Seamstress (Paperback)
Harper Perennial, 9780060738884, 646pp.
Publication Date: August 1, 2009
* Individual store prices may vary.
or
Not Currently Available for Direct Purchase
Description
Winner of the Friends of American Writers Award for Fiction
As seamstresses, the young sisters Emilia and Luzia dos Santos know how to cut, mend, and conceal--useful skills in the lawless backcountry of Brazil, where ruthless land barons feud with bands of outlaw cangaceiros, trapping innocent residents in the crossfire. Emilia, a naive romantic, dreams of falling in love with a gentleman and escaping to a big city. Quick-tempered Luzia also longs for escape, finding it in her craft and secret prayers to the saints she believes once saved her life. But when Luzia is abducted by cangaceiros led by the infamous Hawk and Emilia stumbles into a marriage with the son of a wealthy and politically powerful doctor, the sisters' quiet lives diverge in ways they never would have imagined.
Praise For The Seamstress…
"This impressive debut novel seduces with its sweeping story, strong characterization, and extraordinarily vivid detail. A good read-alike for fans of Isabel Allende."
-Booklist (starred review)

"[An] engrossing historical saga. . . . The novel's true beauty is the exquisitely realized relationship between Emilia and Luzia, two strong women who, despite the separate paths their lives take, remain connected and committed to each other."
-Library Journal

"THE SEAMSTRESS is a gripping portrait of the lives of two sisters caught in the political unbalance of a country at a crossroads. Bittersweet, beautifully written, this sweeping saga is as impossible to put down as it is to forget."
-Aryn Kyle, author of THE GOD OF ANIMALS
How does their shared childhood as poor, religious, orphaned seamstresses shape Emília and Luzia's unique perspectives on life?
How does access to water define political power in a country like Brazil in the 1920s and 1930s? How did the author's descriptions of extreme drought affect your appreciation of modern conveniences?
How does the Hawk's treatment of Luzia in the caatinga, or scrub, reveal Antônio's true nature?
What does Emília's reception into Recife society indicate about the esteem in which the Coelho family is held? To what extent is her mother-in-law, Dona Dulce Coelho, overly concerned about others' perceptions of Emília?
To what extent are secrets responsible for the marriage between Degas and Emília and, much later, for its disintegration?
How does Luzia's behavior in the initial aftermath of Antônio's death explain her success in becoming the new captain of the cangaceiros? In what other ways does her behavior change once the Hawk is dead?
How do Dr. Duarte's interests in phrenology and politics and his import-export business connect him to the government's search for The Seamstress and the Hawk?
At various points in the novel, how does Dr. Eronildes Epifano represent both salvation and damnation to the cangaceiros? What role does Degas play in alerting Emília to Dr. Eronildes's duplicity?
Given The Seamstress's attacks on innocent people, to what extent are Emília's efforts to communicate information to Luzia through newspaper articles and photographs ethically defensible?
How does the book's final image connect with earlier images of bones in The Seamstress? Why do you think the author chose to close her book with this image?
Advertisement