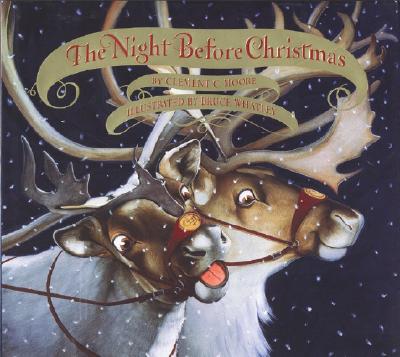 The Night Before Christmas Board Book (Board book)
HarperFestival, 9780060739171, 32pp.
Publication Date: September 28, 2004
Other Editions of This Title:
Hardcover (9/14/2021)
Paperback (8/13/2013)
Hardcover (9/15/2020)
Hardcover (9/15/2020)
Paperback (10/15/2019)
Paperback (11/28/2012)
Paperback (11/6/2012)
Paperback (12/25/2018)
Hardcover (3/28/2019)
Paperback (8/26/2016)
Hardcover (11/14/2012)
Paperback (9/25/2012)
Paperback (12/12/2013)
Hardcover (9/19/2017)
Hardcover (9/27/2011)
* Individual store prices may vary.
Description
'Twas the night before Christmas,
when all through the house
Not a creature was stirring,
not even a mouse.
About the Author
Clement C. Moore (1779–1863), an American scholar and poet, first wrote
The Night Before Christmas
in 1822 to entertain his children. A friend submitted it to a local newspaper,
The Troy Sentinel,
where it was published on December 23, 1823. Moore's delightful description of St. Nicholas and his eight flying reindeer has since become the definitive portrait of Santa Claus.
Bruce Whatley  is one of Australia's most highly regarded and talented authors and illustrators for children, both here and internationally. Bruce started his working life in advertising as an art director and illustrator and since then he has created over 60 picture books.  Many of his books have won awards both in Australia and overseas, including The Ugliest Dog in the World, Looking for Crabs, Tails from Grandad's Attic and Detective Donut and the Wild Goose Chase. 
Bruce has co-written a number of award-winning books with his wife Rosie Smith (Whatley's Quest, Detective Donut and the Wild Goose Chase and Little White Dogs Can't Jump) and his son Ben Smith Whatley (Zoobots).
In 2002 Bruce paired with author Jackie French and illustrated Diary of a Wombat – an iconic picture book that has become an international best-seller with foreign sales to nine territories.  Diary of Wombat was the start of an extraordinary artistic collaboration that sparked the publication of Pete the Sheep, Josephine Wants to Dance, Shaggy Gully Times, Baby Wombat's Week, Christmas Wombat and Wombat Goes to School. Plus two delightful books about Queen Victoria, being Queen Victoria's Underpants and Queen Victoria's Christmas.
 One of the most remarkable aspects of Bruce's talent is the breadth of his artistic ability, which includes an appealing cartoon style to realistic representations using mediums ranging from coloured pencils, watercolour, acrylic and oils, and more recently, 3D digital software. 
And accompanying that talent is an intellectual depth and curiosity that sees Bruce taking on large and complex projects, such as The Beach They Called Gallipoli, which is being co-created with Jackie French and will be published in 2014 to coincide with the centenary of WW1.
In 2008 Bruce completed his PhD titled Left Hand Right Hand: implications of ambidextrous image making. In his thesis Bruce looked at the image making of the non-dominant hand, making the fascinating discovery that in most people the ability to draw lies in the use of the 'other' hand.