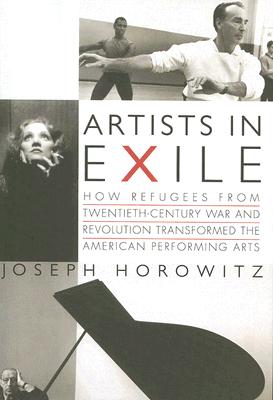 Artists in Exile (Hardcover)
How Refugees from Twentieth-Century War and Revolution Transformed the American Performing Arts
Harper, 9780060748463, 480pp.
Publication Date: February 5, 2008
Other Editions of This Title:
Paperback (3/3/2009)
* Individual store prices may vary.
Description
During the first half of the twentieth century—decades of war and revolution in Europe—an "intellectual migration" relocated thousands of artists and thinkers to the United States, including some of Europe's supreme performing artists, filmmakers, playwrights, and choreographers. For them, America proved to be both a strange and opportune destination. A "foreign homeland" (Thomas Mann), it would frustrate and confuse, yet afford a clarity of understanding unencumbered by native habit and bias. However inadvertently, the condition of cultural exile would promote acute inquiries into the American experience. What impact did these famous newcomers have on American culture, and how did America affect them?
George Balanchine, in collaboration with Stravinsky, famously created an Americanized version of Russian classical ballet. Kurt Weill, schooled in Berlin jazz, composed a Broadway opera. Rouben Mamoulian's revolutionary Broadway productions of Porgy and Bess and Oklahoma! drew upon Russian "total theater." An army of German filmmakers—among them F. W. Murnau, Fritz Lang, Ernst Lubitsch, and Billy Wilder—made Hollywood more edgy and cosmopolitan. Greta Garbo and Marlene Dietrich redefined film sexuality. Erich Korngold upholstered the sound of the movies. Rudolf Serkin inspirationally inculcated dour Germanic canons of musical interpretation. An obscure British organist reinvented himself as "Leopold Stokowski." However, most of these gifted émigrés to the New World found that the freedoms they enjoyed in America diluted rather than amplified their high creative ambitions.
A central theme of Joseph Horowitz's study is that Russians uprooted from St. Petersburg became "Americans"—they adapted. Representatives of Germanic culture, by comparison, preached a German cultural bible—they colonized. "The polar extremes," he writes, "were Balanchine, who shed Petipa to invent a New World template for ballet, and the conductor George Szell, who treated his American players as New World Calibans to be taught Mozart and Beethoven." A symbiotic relationship to African American culture is another ongoing motif emerging from Horowitz's survey: the immigrants "bonded with blacks from a shared experience of marginality"; they proved immune to "the growing pains of a young high culture separating from parents and former slaves alike."
About the Author
Joseph Horowitz is the author of seven previous books, including Understanding Toscanini (named one of the best books of the year by the New York Book Critics Circle and Publishers Weekly) and Classical Music in America (named one of the best books of the year by the Economist). A former New York Times music critic and executive director of the Brooklyn Philharmonic Orchestra, he is the recipient of a Guggenheim Fellowship and two NEH Fellowships, among other honors. He lives in New York City.
Praise For Artists in Exile: How Refugees from Twentieth-Century War and Revolution Transformed the American Performing Arts…
"Heroically researched . . . chock-full of fascinating vignettes, stunning quotations, and shrewd insights on the fly."
— New York Times

A masterful study of how the Russian Revolution, the rise of European fascism and the second world war all transformed the American performing arts
— The Economist

A persuasive examination of the most compelling of twentieth century cultural phenomena, how refugees from all across Europe, running the gamut from George Balanchine to Billy Wilder, revolutionized American artistic life. Erudite, incisive, inconoclastic, as readable as it is comprehensive, this is just the kind of treatment the participants themselves would have relished.
— Kenneth Turan, film critic, Los Angeles Times

"A rich assembly, an unmasked ball teeming with famous names. . . . Horowitz can make judgements boldly, out of deep knowledge. . . . The way Horowtiz raves learnedly...should send any reader diving into Amazon."
— Times Literary Supplement (London)
or
Not Currently Available for Direct Purchase