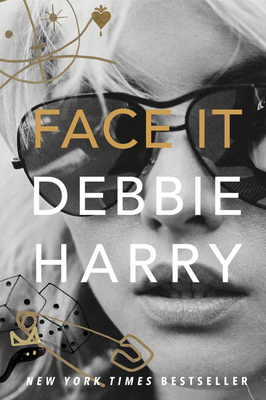 Face It
A Memoir
Hardcover

* Individual store prices may vary.
Other Editions of This Title:
Digital Audiobook (9/30/2019)
Description
Filled with never-before-seen photos and art throughout, the much-anticipated autobiography from rock icon and lead singer of Blondie, Debbie Harry
BRAVE, BEAUTIFUL AND BORN TO BE PUNK 
Musician, actor, activist, and the iconic face of New York City cool, Debbie Harry is the frontwoman of Blondie, a band that forged a new sound that brought together the worlds of rock, punk, disco, reggae and hip-hop to create some of the most beloved pop songs of all time. As a muse, she collaborated with some of the boldest artists of the past four decades. The scope of Debbie Harry's impact on our culture has been matched only by her reticence to reveal her rich inner life—until now.  
In an arresting mix of visceral, soulful storytelling and stunning visuals, Face It upends the standard music memoir while delivering a truly prismatic portrait. With all the grit, grime, and glory recounted in intimate detail, Face It re-creates the downtown scene of 1970s New York City, where Blondie played alongside the Ramones, Television, Talking Heads, Iggy Pop and David Bowie. Aesthetically dazzling, and including never-before-seen photographs, bespoke illustrations and fan art installations, Face It brings Debbie Harry's world and artistic sensibilities to life.  
Following her path from glorious commercial success to heroin addiction, the near-death of partner Chris Stein, a heart-wrenching bankruptcy, and Blondie's breakup as a band to her multifaceted acting career in more than thirty films, a stunning solo career and the triumphant return of her band, and her tireless advocacy for the environment and LGBTQ rights, Face It is a cinematic story of a woman who made her own path, and set the standard for a generation of artists who followed in her footsteps—a memoir as dynamic as its subject. 
"I was saying things in songs that female singers didn't really say back then. I wasn't submissive or begging him to come back, I was kicking his ass, kicking him out, kicking my own ass too. My Blondie character was an inflatable doll but with a dark, provocative, aggressive side. I was playing it up yet I was very serious."—From Face It 
Praise For Face It: A Memoir…
"Ms. Harry is a plain-spoken rock goddess." — PENELOPE GREEN, THE NEW YORK TIMES STYLES
"Harry's new memoir is a post-punk bijou that rewards her devotees." — USA TODAY
"Readers, both familiar and unfamiliar with Harry's career, will enjoy this memoir...She was a young woman who fell under the spell of New York and made herself into the performer she always knew she'd become, one who went on to cast her own spell on millions of listeners." — THE WASHINGTON POST
"[An] insightful new memoir…the most distinctive quality in Harry's book is her sangfroid. At each dramatic turn — and there are plenty — she remains unflappable." — Los Angeles Times
"Harry writes with a certain cool…She is one magnificent broad. The worship continues."  — New Statesman
"With Face It, Harry is here to fill in some of the blanks—briskly, humorously… Knowing that there are still those who expect her to be simply "a blonde in tight pants," she tells her life story how she wants to tell it." 
— The Atlantic
"From run-ins with poltergeists, would-be kidnappers, and the IRS, to the touch-and-go grit and glam of life on the road, this memoir elucidates the triumphs and trials of Blondie's enigmatic frontwoman."  — Vanity Fair
"Face It makes for an engaging and occasionally surprising read." — The Guardian
 "The book is a great read full of humor, pathos, bittersweet reflection."  — Arizona Republic
"Face It departs from most celebrity bios… It features original art, comic strips and pages of fan art" — Miami Herald
"Blondie fans will love its piquant atmospherics and the energy and honesty of Harry's take on her singular saga." — PUBLISHERS WEEKLY
"In this whirlwind tour of her life, Harry, one of the most photographed faces in music, deploys an irreverent style well suited to her story. Her tales of life before, during, after, and beyond her time with Blondie are intermixed with interludes that capture the eclectic and electric passion she has for the creative process. In a narrative that feels simultaneously heartfelt and spontaneous, Harry recounts close encounters with violence and harassment with the same immediacy as the moments that catapulted Blondie to worldwide fame. Harry doesn't focus on the challenges of being a woman in the music industry but rather on the collaborations that fueled her creativity. Though her sound and style influenced rock, and especially women in rock, there's refreshingly little self-congratulation in these pages. Instead, readers will find reflection on life with a budding band and an uncensored view of what it took to succeed...A wild ride of fame, friendships, music, and drugs sure to appeal to Blondie fans and 1970s rock in general." — KIRKUS
Dey Street Books, 9780060749583, 368pp.
Publication Date: October 1, 2019
About the Author
DEBBIE HARRY with Blondie has sold millions of albums worldwide and was inducted into the Rock and Roll Hall of Fame in 2006. Harry had the pleasure of acting in some of the most interesting independent films of the last twenty years. She is devoted to environmental issues such as clean water and saving pollinators as well as the promotion of the LGBTQ community and human rights.