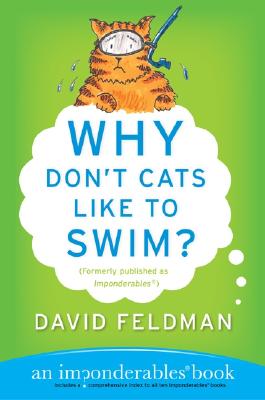 Why Don't Cats Like to Swim? (Paperback)
An Imponderables Book (Imponderables Series #1)
Harper Perennial, 9780060751487, 336pp.
Publication Date: November 2, 2004
* Individual store prices may vary.
Description
Why does an "X" stand for a kiss?
Which fruits are in Juicy Fruit® gum?
Why do people cry at happy endings?
Why do you never see baby pigeons?
Pop-culture guru David Feldman demystifies these topics and so much more in Why Don't Cats Like to Swim? -- the unchallenged source of answers to civilization's most perplexing questions. Part of the Imponderables® series, Feldman's book arms readers with information about everyday life -- from science, history, and politics to sports, television, and radio -- that encyclopedias, dictionaries, and almanacs just don't have. Where else will you learn what makes women open their mouths when applying mascara?
About the Author
David Feldman is the author of ten previous volumes of Imponderables®. He has a master's degree in popular culture from Bowling Green State University in Ohio and consults and lectures on the media. He lives in New York City.