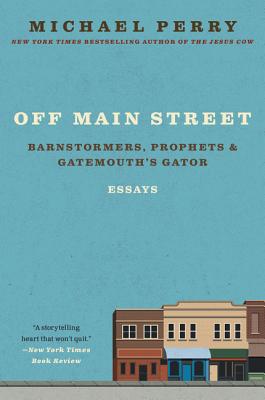 Off Main Street: Barnstormers, Prophets, and Gatemouth's Gator: Essays (Paperback)
Barnstormers, Prophets, and Gatemouth's Gator: Essays
Harper Perennial, 9780060755508, 284pp.
Publication Date: June 28, 2016
Description
Whether he's fighting fires, passing a kidney stone, hammering down I-80 in an 18-wheeler, or meditating on the relationship between cowboys and God, Michael Perry draws on his rural roots and footloose past to write from a perspective that merges the local with the global.
Ranging across subjects as diverse as lot lizards, Klan wizards, and small-town funerals, Perry's writing in this wise and witty collection of essays balances earthiness with poetry, kinetics with contemplation, and is regularly salted with his unique brand of humor.
Praise For Off Main Street: Barnstormers, Prophets, and Gatemouth's Gator: Essays…
"A delightful mix of humor and pathos, touching the heart and tickling the funny bone."
-Kirkus Reviews
Advertisement