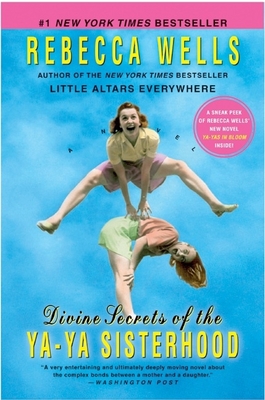 Divine Secrets of the Ya-Ya Sisterhood (Paperback)
A Novel (The Ya-Ya Series)
Harper Perennial, 9780060759957, 400pp.
Publication Date: December 7, 2004
Other Editions of This Title:
Digital Audiobook (7/6/2009)
Digital Audiobook (7/6/2009)
Paperback (5/3/2011)
Mass Market (5/21/2002)
Hardcover (5/2/1996)
Paperback (5/1/1997)
Hardcover (10/16/1998)
Paperback, Spanish (2/1/2005)
* Individual store prices may vary.
Description
"A very entertaining and, ultimately, deeply moving novel about the complex bonds between mother and daughter." —Washington Post
"Mary McCarthy, Anne Rivers Siddons, and a host of others have portrayed the power and value of female friendships, but no one has done it with more grace, charm, talent, and power than Rebecca Wells." —Richmond Times-Dispatch
The incomparable #1 New York Times bestseller, Rebecca Wells's Divine Secrets of the Ya-Ya Sisterhood is a classic of Southern women's fiction to be read and reread over and over again. A poignant, funny, outrageous, and wise novel about a lifetime friendship between four Southern women, Divine Secrets of the Ya-Ya Sisterhood brilliantly explores the bonds of female friendship, the often-rocky relationship between mothers and daughters, and the healing power of humor and love, in a story as fresh and uplifting as when it was first published a decade and a half ago. If you haven't yet met the Ya-Yas, what are you waiting for?
About the Author
Writer, actor, and playwright Rebecca Wells is the author of the New York Times bestsellers Ya-Yas in Bloom, Little Altars Everywhere, and Divine Secrets of the Ya-Ya Sisterhood, which was made into a feature film. A native of Louisiana, she now lives on an island in the Pacific Northwest.
Praise For Divine Secrets of the Ya-Ya Sisterhood: A Novel (The Ya-Ya Series)…
"A very entertaining and, ultimately, deeply moving novel about the complex bonds between mother and daughter."
— Washington Post

"An insightful, delicious novel."
— Oregonian

"A big, blowzy romp through the rainbow eccentricities of three generations of crazy bayou debutantes trying to survive marriage, motherhood, and pain, relying always on eah other… A novel of wide reach and lots of colors: fun in a breathless sort of way."
— Atlanta Journal-Constitution

"Divine Secrets is funny, funny, funny."
— Arkansas Democrat-Gazette

"One heck of a rollicking good read…"
— Columbus Dispatch

"An entertaining and engrossing novel filled with humor and heartbreak… Readers will envy Vivi her Ya-Ya 'sisters' and Sidda her lover, who is one of the most appealing men to be found in recent mainstream fiction."
— Library Journal

"Hard to resist…Wells offers up some appealing characters and good stories."
— Chicago Tribune

"Every woman should have a pack of buddies like the Ya-Yas."
— Albuquerque Journal

"Mary McCarthy, Anne Rivers Siddons, and a host of others have portrayed the power and value of female friendships, but no one has done it with more grace, charm, talent, and power than Rebecca Wells does in Divine Secrets of the Ya-Ya Sisterhood."
— Richmond Times-Dispatch

"An enjoyable novel with much to recommend it… It is rich stuff and Wells tells it well."
— Seattle Times

"Unforgettable… By turns comic and poignant, Wells' latest entry fulfills the promise of her award–winning debut novel, Little Altars Everywhere. It speaks eloquently to what it means to be a mother, a daughter, a wife — and somehow, at last, a person."
— Charlotte Observer

"Wells' Louisiana is thick with sensual excesses — bayou French, pralines and sour cream cookies, crayfish etouffee, honeysuckle–smothered trellises, camellias and jasmine… In Divine Secrets, you can hear the ice cubes clink on every page… Wells' book succeeds marvelously."
— Seattle Weekly

"Sensitive, spellbinding… a wonderfully irreverent look at life in small–town Louisiana from the thirties on up through the eyes of the Ya–Yas, a gang of merry, smart, brave, poignant, and unforgettable godesses."
— Booklist

"Readers who like their books about the human condition spiced witha Southern drawl won't want to miss this one."
— Mississippi Sun Herald

"The sweet and sad and goofy monkey–dance of life, as performed by a bevy of unforgettable Southern belles in a verdant garden of moonlit prose. Poignantly coo–coo, the Ya-Yas (and their Petites Ya-Yas) will prance, priss, ponder and party their way into your sincere affection."
— Tom Robbins, author of Even Cowgirls Get the Blues and Half Asleep in Frog Pajamas

"I read the first two pages and I said… I haven't heard a white woman talk like this in literature before."
— Terry McMillan, San Francisco Chronicle