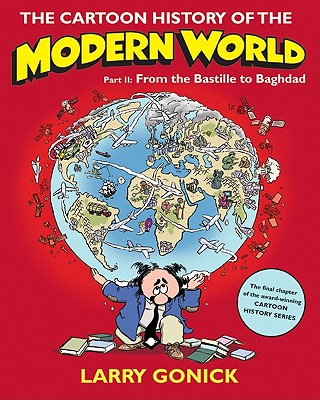 The Cartoon History of the Modern World Part 2 (Paperback)
From the Bastille to Baghdad (Cartoon Guide Series)
William Morrow Paperbacks, 9780060760083, 272pp.
Publication Date: October 6, 2009
Other Editions of This Title:
Paperback (12/26/2006)
Paperback (11/1/2011)
* Individual store prices may vary.
Description
"From the Bastille to Baghdad," The Cartoon History of the World Part 2 is the conclusion (for the moment) of Larry Gonick's award-winning and bestselling annals of humankind presented in graphic novel form. Picking up after the American Revolution, where Part 1 left off, Part 2 opens with the Enlightenment and rolls across Napoleon, the fall of the Ottoman Empire, World War I and II, and all the way to our recent imbroglios in Iraq and Afghanistan. The Cartoon History of the Modern World Part 2 is a monumental, one might say "historic" achievement, at once edifying, irreverent, and wildly entertaining. Terry Jones of Monty Python said of the first volume of this series, "Obviously one of the great books of all time." And modern civilization's most recent act is no less enthralling.
About the Author
Larry Gonick has been creating comics that explain math, history, science, and other big subjects for more than forty years. He has been a calculus instructor at Harvard (where he earned his BA and MA in mathematics) and a Knight Science Journalism Fellow at MIT, and he is currently staff cartoonist for Muse magazine. He lives in San Francisco, California.
Praise For The Cartoon History of the Modern World Part 2: From the Bastille to Baghdad (Cartoon Guide Series)…
"Full of facts and wisdom, horror and humor….Gonick's one-two punch of pictures and words isn't just a gimmick; it makes it much easier to remember the facts of history. If we really wanted kids (or adults!) to learn history, we'd throw away our textbooks, and teach Gonick."
— Bryan Caplan, The Library of Economics and Liberty EconLog

"With limber pen and nimble mind, Larry Gonick completes a cartoon journey that started at the dawn of time. Brisk, informative, and hilarious, The Cartoon History Of The Modern World fills us in on exactly how we got so screwed up on a global scale."
— K. Thor Jensen, author of Red Eye, Black Eye

"Like any good historian, Larry Gonick seasons his facts with a good dose of perspective, and like any good cartoonist, he mixes his drama with a good dose of humor."
— Jeffrey Brown, author of Clumsy and Funny Misshapen Body

"Gonick makes history fun for comic book nerds and comics readable for history nerds. If you've ever looked around this modern world and wondered how we got into this mess, it's time to curl up with his latest book. You won't even realize you're learning—histo-tainment at its best."
— Alex Robinson, Eisner Award winner and author of Box Office Poison

"Lively cartooning and pretension-puncturing wit."
— Booklist

"The final installment of Gonick's deeply funny and impeccably researched series has finally arrived... Brilliantly funny, the series finds the inherent humor in history..."
— Publishers Weekly

"Funny, informative, and comprehensive, Gonick's history concludes with this second volume. His unique wit, sense of irony, and passion for humanity's complex story of triumphs, compromises, and disasters are as evident here as they are in his previous books... An insightful review of history."
— School Library Journal