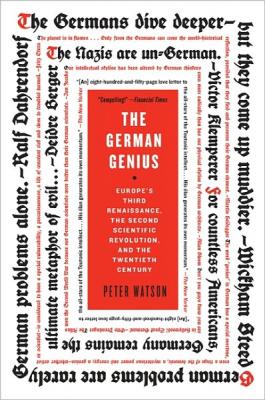 The German Genius
Europe's Third Renaissance, the Second Scientific Revolution, and the Twentieth Century
Paperback

* Individual store prices may vary.
Other Editions of This Title:
Digital Audiobook (3/30/2022)
Description
The German Genius is a virtuoso cultural history of German ideas and influence, from 1750 to the present day, by acclaimed historian Peter Watson (Making of the Modern Mind, Ideas). From Bach, Goethe, and Schopenhauer to Nietzsche, Freud, and Einstein, from the arts and humanities to science and philosophy, The German Genius is a lively and accessible review of over 250 years of German intellectual history. In the process, it explains the devastating effects of World War II, which transformed a vibrant and brilliantly artistic culture into a vehicle of warfare and destruction, and it shows how the German culture advanced in the war's aftermath.
Praise For The German Genius: Europe's Third Renaissance, the Second Scientific Revolution, and the Twentieth Century…
"A compilation of essential German contributions to philosophy, theology, mathematics, natural and social science and the arts since 1750. Watson enshrines a vast pantheon of creative thinkers... [including] compressed summaries of some exceedingly difficult ideas. The range of subjects is impressive, from painters to physicists." — New York Times Book Review
"[The German Genius is] Watson's eight-hundred-and-fifty-page love letter to the all-stars of the Teutonic intellect…his élan generates its own momentum… The book's breadth is part of the point." — The New Yorker
"Reveals several surprises. . . . A remarkable book on many levels. The research is first-rate and it is surprisingly accessible." — Tucson Citizen
"A tour de force. . . . It is impossible not to be impressed by his range and versatility as he bounds across the disciplines. . . . This intelligent book presents a breathtaking panorama." — Sunday Times (London)
"[A] colossal encyclopaedia. . . . Heroic. . . . Watson derives the German genius from deep springs." — The Guardian
"Watson's book is intended to subvert the negative German stereotypes. Though it checks in at just short of 1,000 pages, it is a usefully concise introduction to the principal themes and personalities of German scientific, philosophical, social, literary and artistic culture since 1750." — The Times (London)
"Few wasted words—a welcome resource for students of modern history, literature and cultural studies." — Kirkus Reviews
"Watson tells how the Nazis' first artistic blacklist appeared just six weeks after Hitler assumed power in 1933 - and how his catastrophic handling of his intellectual inheritance has unfairly overshadowed the country ever since. This exhaustive and virtuoso sweep through history goes some way to restoring the balance." — Press Association
"The German Genius present a huge corpus of scholarship in easily digestible form, and its range is astonishing. No professor, least of all a German one, would have dared to essay such a synthesis; so much the worse for the professors." — Standpoint
"He has an enviable gift of explaining lucidly and cogently ideas that are complicated or profound (or both). . . . Everyone interested in the sufferings and greatness of modern culture will be informed, entertained and provoked by it." — Literary Review
"Assembles such a wealth of information, based on an impressive range of sources, that The German Genius will be an essential work...for years to come." — The Independent
"Watson's story is vibrating with life. It is unputdownable. It contains a lot one didn't know. So much enlightenment and so much that moves." — Frankfurter Rundschau
"A joy, for its ambition, its seriousness and its moral integrity." — The Scotsman
"A powerful and vivid opus. . . . Watson's story is brimming with life. You can barely put the book aside." — Berliner Zeitung.
"Few wasted words-a welcome resource for students of modern history, literature and cultural studies." — Kirkus Reviews
"[An] engrossing, vast chronicle. . . . English now dominates the arts and sciences, but Watson writes an absorbing account of a time not so long ago when German ruled." — Publishers Weekly (starred review)
Harper Perennial, 9780060760236, 992pp.
Publication Date: July 26, 2011
About the Author
Peter Watson has been a senioreditor at the London Sunday Times, a New York correspondentof the London Times, a columnist for theLondon Observer, and a contributor to the New YorkTimes. He has published three exposés on the world ofart and antiquities, and is the author of several booksof cultural and intellectual history. From 1997 to 2007he was a research associate at the McDonald Institutefor Archaeological Research at the University of Cambridge.He lives in London.
or
Not Currently Available for Direct Purchase