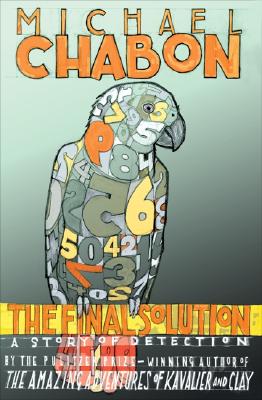 The Final Solution
A Story of Detection
Hardcover

* Individual store prices may vary.
Other Editions of This Title:
Paperback (11/1/2005)
Compact Disc (1/26/2021)
Compact Disc (1/26/2021)
MP3 CD (1/26/2021)
Compact Disc (1/1/2005)
Paperback (2/1/2010)
CD-Audio (11/9/2004)
Description
In The Amazing Adventures of Kavalier and Clay, prose magician Michael Chabon conjured the golden age of comic books, interwining history, legend and story-telling verve. In The Final Solution, he has condensed his boundless vision to create a short, suspenseful tale of compassion and wit that re-imagines the classic 19th-century detective story.
In deep retirement in the English countryside, an 89-year old man, vaguely recollected by the locals as a once-famous detective, is more concerned with his bookkeeping than his fellow man. Into his life wanders Linus Steinman, nine years old and mute, who has escaped from Nazi Germany with his sole companion: an African grey parrot. What is the meaning of the mysterious strings of German numbers the bird spews out—a top-secret SS code? The keys to a series of Swiss bank accounts? Or do they hold a significance at once more prosaic and far more sinister?
Though the solution to this last case may be beyond even the reach of the once famed sleuth, the true story of the boy and his parrot is subtly revealed to the reader in a wrenching resolution to this brilliant homage. The Final Solution is a work from a master story-teller at the height of his powers.
Praise For The Final Solution: A Story of Detection…
"On par with the best, most tightly written sections of Chabon's last novel, the marvelous The Amazing Adventures of Kavalier & Clay…exceptional."
— New York Times Book Review

"At once an ingenious, fully imagined work, an expert piece of literary ventriloquism, and a mash note to the beloved boys' tales of Chabon's youth, The Final Solution is a major minor work that will come to be seen as a hinge piece in the development of Chabon's art…A prose magician, Chabon is that rare literary anomaly: a gentle-spirited writer of boundless ambition."
— Village Voice

"One of the best-written American novels published this fall . . . an experiment by a master."
— The New York Sun

"Chabon writes with plummy luxury . . . the language is luscious enough to lap up."
— Washington Post

"Deftly composed…the slender but elegant narrative begins churning on its way…seating us around a rooming-house dinner table of a Sunday with a full cast of secondary characters…it's a method that dovetails beautifully…[The Final Solution] is a lovingly constructed tribute to a form."
— Chicago Tribune

"A profound pleasure."
— New York magazine

"The tough, fibrous membrane that used to separate literary fiction from popular fiction is rupturing. The highbrow and the lowbrow, once kept chastely separate, are now hooking up, which is why we have great, funky, unclassifiable writers like Chabon…this is literature in mid-transformation, the modernist bleeding into the postmodern and beyond."
— Time magazine

"Chabon's fans will eagerly clue in on a fine new quality in his nimble voice-something firm, rich, and anything but child's play."
— Entertainment Weekly

"Delightful…and deceptively profound...Chabon shows his greatness."
— Louisville Courier Journal

"Simple and startlingly sad…Chabon has created a minor masterpiece."
— Hartford Courant

"A haunting novella."
— Publishers Weekly

"Brilliant and unswervingly entertaining."
— The Forward

"The writing is everything that Chabon's fans expect--gorgeous, muscular, mildly melancholic…wonderfully executed."
— Baltimore Sun

"Packed with gorgeous writing…a knockout. You'll be done before you know it. Then you might well read it again."
— Milwaukee Journal Sentinel

"Michael Chabon, is, simply, the coolest writer in America."
— Christian Science Monitor

"Chabon's writing here is elegant and limber…[The Final Solution] is a little mystery story with big ideas."
— San Francisco Chronicle (Best Books of 2004)

"A knockout…you'll be done before you know it. Then you might well read it again."
— Denver Post

"Watching Chabon skillfully zigzag between literary and genre is half the fun of the book…refreshing."
— Miami Herald

"Exuberant…the real mystery is how Chabon managed to fit so much hope and humanity into such a brief tale."
— BookPage

"Infused with a graceful, elegiac atmosphere…wrought with innovative construction, glittering with epiphany…remarkable."
— Buffalo News
Harper, 9780060763404, 144pp.
Publication Date: November 9, 2004
About the Author
Michael Chabon is the bestselling and Pulitzer Prize-winning author of Moonglow and The Amazing Adventures of Kavalier & Clay, among many others. He lives in Berkeley, California with his wife, the novelist Ayelet Waldman, and their children.
or
Not Currently Available for Direct Purchase