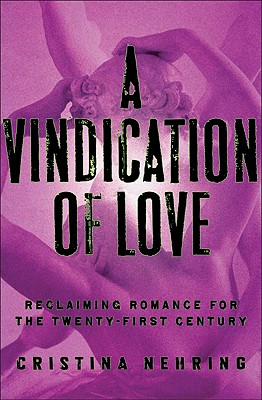 A Vindication of Love: Reclaiming Romance for the Twenty-first Century (Hardcover)
Reclaiming Romance for the Twenty-first Century
Harper, 9780060765033, 336pp.
Publication Date: June 1, 2009
* Individual store prices may vary.
or
Not Currently Available for Direct Purchase
Description
A thinking-person's guide to romantic love, a bold and challenging book that makes the case for love in an age both cynical about and fearful of strong passion
At the dawn of the twenty-first century, political correctness, cynicism, pragmatism, and the commodification of sex have reduced romantic love to a discredited myth or a recreational sport—"a cause for embarrassment," argues Cristina Nehring. In her brilliantly researched first book, Nehring wrests romantic love from the clutches of retrograde feminists and cutting-edge capitalists, thrill-seeking convenience shoppers and safe-sex moralists. With help from celebrated lovers ranging from HÉlÖise and Abelard to Frida Kahlo and Diego Rivera, and from literature as diverse as Ovid's Art of Love and the poems of Emily Dickinson, Nehring celebrates the wild, irreverent, and uncompromising models of love we have inherited. As she rediscovers romantic love's fearless and heroic provenance, she challenges readers to demand partnerships that fully engage body, heart, and mind.
In an age when "settling" is encouraged and marriage is often described in business terms, Nehring's passionate defense of romantic love is timely and thoroughly refreshing. By reclaiming the right to love, to yearn, and—yes—to risk, A Vindication of Love aims to establish a new romantic paradigm for a new century.
Praise For A Vindication of Love: Reclaiming Romance for the Twenty-first Century…
"A fierce and lively book.... one of those rare books that could make people think about their intimate lives in a new way."
-New York Times Book Review

"An ambitious polemic. . . . A fresh reading of literary and historical figures. . . . Nehring's paean to unconventional ecstasy is a bracing reminder of how narrow and orthodox our vision of love has become."
-Slate

"An eloquent plea for romantic daring and idealism…A bold, high-flying polemic which sets out to do nothing less than reclaim romantic love for our times."
-Ingrid Norton, Open Letter Monthly

"A wild appreciation of men and women . . . who passionately and fearlessly and recklessly redefine romance. . . . The passionate creatures who refuse to play it safe and settle down now have an intelligent, like-minded advocate."
-Jessa Crispin, The Smart Set

"A rousing defense of imprudent ardor and romantic excess. . . . It's difficult to deny that she's on to something. . . . Ms. Nehring reveals (and revels in) the rich inner agonies of the love-tossed."
-Wall Street Journal

"A sharp new polemic.... A Vindication of Love makes an ardent and engaging case for attraction in its rawest form—where lust, emotion and the intellect converge."
-NPR
Advertisement