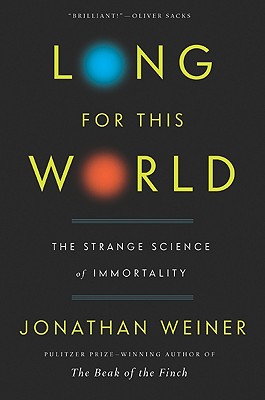 Long for This World (Hardcover)
The Strange Science of Immortality
Ecco, 9780060765361, 320pp.
Publication Date: July 1, 2010
* Individual store prices may vary.
Description
" A] searching and surprisingly witty look at the scientific odds against tomorrow."
--Timothy FerrisJonathan Weiner--winner of the Pulitzer Prize, the National Book Critics Circle Award, and the Los Angeles Times Book Prize, and one of the most distinguished popular science writers in America--examines "the strange science of immortality" in Long for This World. A fast-paced, sure-to-astonish scientific adventure from "one of our finest science journalists" (Jonah Lehrer), Weiner's Long for This World addresses the ageless question, "Is there a secret to eternal youth?" And has it, at long last, been found?
Praise For Long for This World: The Strange Science of Immortality…
"Jonathan Weiner has done it again. In LONG FOR THIS WORLD, one of our finest science journalists explores the shadowy sword hanging over us all, weaving together the latest research with time-tested cultural wisdom. Will we ever live forever? And would we even want to?"
-Jonah Lehrer, author of HOW WE DECIDE

"Bizarre, fascinating, and fun."
-Rebecca Skloot, author of THE IMMORTAL LIFE OF HENRIETTA LACKS

"A great trip.... Weiner writes engagingly [and] explores the fractured, fuzzy science and pseudoscience of immortality."
-Abraham Verghese, NEW YORK TIMES BOOK REVIEW

"A brilliant and improbably funny look inside the mind-bending science of immortality."
-Village Voice

"The promise of eternal youth is both tantalizingly close and far-fetched in this fascinating primer on longevity research . . . . An engrossing tour of cutting-edge research . . . . Weiner's erudite, elegant exposition of the underlying science is stimulating yet sobering."
-Publishers Weekly (starred review)

"LONG FOR THIS WORLD is a rich and fascinating study of the longing for immortality and our lingering doubts about the possibility of surpassing our mortal limits."
-Simon Critchley, author of THE BOOK OF DEAD PHILOSOPHERS

"I admire all of Jonathan Weiner's books, but this one especially because of its intellectual depth and clarity, its sense of personal involvement, and its tone and wit. The chapter on the evolution of aging is particularly brilliant! I couldn't put the book down."
-Oliver Sacks

"In LONG FOR THIS WORLD, Jonathan Weiner brings his immense talents--his masterful prose, his deep reporting, and his ability to see connections across the human experience--to one of science's most intriguing frontiers: the science of aging."
-Carl Zimmer, author of THE TANGLED BANK: An Introduction to Evolution and PARASITE REX

"Taxes may be inevitable, but death? Maybe not so much, suggests Jonathan Weiner, one of our finest science writers, in this searching and surprisingly witty look at the scientific odds against tomorrow."
-Timothy Ferris

"I love this book. It is a mesmerizing blend of vivid (sometimes hilarious) reporting, wide-ranging scholarship, and the thoughtful probing of a great mystery. Like everything Jonathan Weiner does, it is far more than the sum of its parts."
-James Gleick
Coverage from NPR
or
Not Currently Available for Direct Purchase