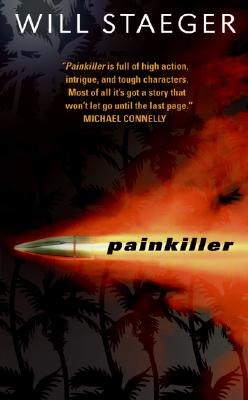 Painkiller
Mass Market

* Individual store prices may vary.
Other Editions of This Title:
Hardcover (7/5/2005)
Description
With page-turning ferocity, Will Staeger delivers a stylistic blend of riveting action, thrilling suspense, and starkly alluring characters in this classic tale of espionage laced with a twist of modern-day terror . . .
The quasi-retired, Virgin Islands-based CIA operative known only as W. Cooper lives his life free-diving and philandering along a quarter-mile of white sand—a necessary slice of paradise for a man seeking to kill the pain of torturous memories. His life of leisure is rudely interrupted, however, when he's tapped by the local police to "dispose" of a bullet-ridden, mysteriously scarred body deposited on the island's shore by a passing hurricane. Sensing the cops are merely looking to duck the labor of a proper homicide investigation, Cooper declines—only to encounter a haunting form of déjà vu that brings with it a strange sense of comradeship with the anonymous victim. Knowing he'd be better off leaving well enough alone, Cooper decides to investigate where no one else seems willing.
At CIA headquarters in Langley, Virginia, junior analyst Julie Laramie discovers, almost by accident, evidence of a massive, clandestine military buildup in China—and elsewhere. Alerting her superiors in her typically alarmist fashion, she's reprimanded for violating Agency protocol and told to leave policymaking to the elected officials. Like Cooper, Laramie knows she should walk away, but her gut drives her on a course toward career suicide—and a bounty of evidence only she seems to see. What she sees? A labyrinthine, untraceable terrorist plot designed to cripple the United States.
Led down parallel paths littered with a uniquely dark and compelling cast of enemies—a zombifying Haitian witch doctor, a slave-trading albino serial killer, and a Creatine-boosted behemoth bodybuilder to name just three—Cooper and Laramie find themselves drawn together from opposite ends of a terrifying conspiracy. With the clock ticking down, the two realize they may be all that stands in the way of the annihilation of the existing world order.
A dynamic and complex story featuring powerful writing, magnetic characters, and a terrifyingly realistic premise, Will Staeger's debut marks him as the newest star on the thriller horizon. So beware . . . like the Caribbean cocktail with which this book shares its name, Painkiller is deceptively tasty—and exceedingly dangerous.
Praise For Painkiller…
"Will Staeger's Painkiller is inspired stuff! I read it in one very pain-free, fun-filled sitting."
— James Patterson, bestselling author of 4th of July

"Painkiller is brilliantly conceived and written."
— Clive Cussler, bestselling author of Black Wind

"A great read...richly atmospheric, well-plotted and crackling with tension...it marks the arrival of a major talent.
— Christopher Reich, author of Devil's Banker and The First Billion

"Painkiller's got it all--no-holds-barred pacing, stunning research, and a great irascible protagonist
— Gregg Hurwitz

"Flush with humor, insight, and political intrigue, here is a debut not to be missed."
— James Rollins, best-selling author of Sandstorm and Map of Bones

"Palpable excitement. Relentless action. A terrific character. A perfect summer read."
— David Morrell, best-selling author of The Brotherhood of the Rose and Creepers

"Will Staeger weaves a high tension narrative into an impossible-to put-down espionage thriller...a major new talent."
— James Siegel, bestselling author of Derailed

"The action is rapid-fire...and the Cooper-Julie pairing downright delicious."
— Kirkus Reviews

"Full of high action, intrigue and tough characters...a story that won't let go until the last page."
— Michael Connelly, author of The Closers
HarperTorch, 9780060765880, 496pp.
Publication Date: April 25, 2006
About the Author
Will Staeger has worked for ESPN as an executive producer of original entertainment, and in Hollywood as a feature-film development executive. He lives with his wife and children in Connecticut.
or
Not Currently Available for Direct Purchase