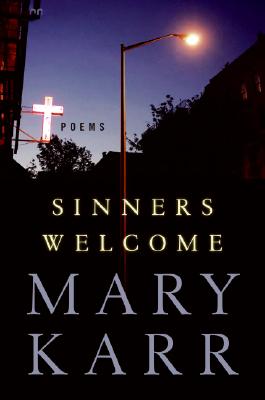 Sinners Welcome
Poems
Hardcover

* Individual store prices may vary.
Other Editions of This Title:
Paperback (11/3/2009)
Description
Mary Karr describes herself as a black-belt sinner, and this -- her fourth collection of poems --traces her improbable journey from the inferno of a tormented childhood into a resolutely irreverent Catholicism. Not since Saint Augustine wrote "Give me chastity, Lord -- but not yet!" has anyone brought such smart-assed hilarity to a conversion story.
Karr's battle is grounded in common loss (a bitter romance, friends' deaths, a teenage son's leaving home) as well as in elegies for a complicated mother. The poems disarm with the arresting humor familiar to readers of her memoirs, The Liars' Club and Cherry. An illuminating cycle of spiritual poems have roots in Karr's eight-month tutelage in Jesuit prayer practice, and as an afterword, her celebrated essay on faith weaves the tale of how the language of poetry, which relieved her suffering so young, eventually became the language of prayer. Those of us who fret that poetry denies consolation will find clear-eyed joy in this collection.
Praise For Sinners Welcome: Poems…
"So much trickery has been got up to in relgion's name that it's natural to get nervous when a writer starts talking about salvation, but Karr never tries to substitute faith for sound poetic practices. If anything, by adding prayer, she just makes the poems that much stronger."
— David Kirby, New York Times

"What gives Sinners Welcome its sharp edge is the poet's eloquently passionate struggle at the junction of doubt and devotion."
— Judith Kitchen, Washington Post

"Fans of the smart-mouthed hell-raiser need not fear. Karr brings the same unstinting truth-telling sensibility to her spiritual concerns as she has to her earthly struggles."
— Dan DeLuca, Philadelphia Inquirer

"Sinners Welcome mixes her beloved stories from the wrong side of the tracks with new notes of care and forgiveness and pure, often angry, hymns to God. . . . It's a daring mix. Before she had her fists up; now she strips herself bare, a far braver act."
— Laurel Maury, Los Angeles Times

"Searing, not sentimental."
— Sam Hodges, Dallas Morning News

"These poems…demonstrate poetry as religion's kin. While not for the unquestioning devout, this book should stand beside works by writers like Thomas Merton or William Everson (a.k.a. Brother Antonitus) in both poetry and spiritual collections."
— Rochelle Ratner, Library Journal
Harper, 9780060776541, 112pp.
Publication Date: February 28, 2006
About the Author
Mary Karr is the author of three award-winning, bestselling memoirs: The Liars' Club, Cherry, and Lit, as well as The Art of Memoir, also a New York Times bestseller. She received Guggenheim and Radcliffe Fellowships for poetry and is the Peck Professor of Literature at Syracuse University.
or
Not Currently Available for Direct Purchase